International Summer School visits S2BMRC spin-off UIIN in Amsterdam
July 22, 2016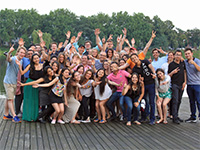 On July 22, Dr. Thorsten Kliewe, academic researcher at the Science-to-Business Marketing Research Centre and Chairman and CEO of its spin-off UIIN, welcomed 24 visitors from Münster University of Applied Sciences' summer school on "Innovation and Entrepreneurship" at the Science Park in Amsterdam, The Netherlands. The visit followed a two week summer school hosted in Münster, Germany, and aimed at giving the participants insights into the startup ecosystem in Amsterdam whilst enjoying the weekend in "The City of the Canals".

Based on the entrepreneurial experiences he gained in the past 10 years, Dr. Kliewe shared his lessons learned with the summer school participants from Germany, Columbia, Brazil, Chile and the UK. Given that the University Industry Innovation Network is based in Amsterdam, but driving innovation and entrepreneurship globally, the participants were also able to gain insights into the wider field of innovation and entrepreneurship, both at the workshop and informally at the joint dinner.

Additional presentations during this afternoon workshop were delivered by Josephine Meijer and Renée van der Heijden from Startup Amsterdam and by Sandra Hasanefendic from the Vrije Universiteit Amsterdam.