MSB guest Lina Landinez from Adelaide Uni joins S2BMRC as part of her visit at MSB.
September 01, 2016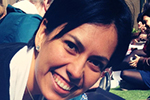 The S2BMRC happily welcomes Lina Landinez at the S2B office. Lina Landinez is a guest researcher at MSB Münster School of Business from 1st of September until 28th of February. Lina obtains a dual citizenship: She is Australian as well as Colombian (by birth).
Because of her research focus its close connection to the thematic focus of the S2BMRC Lina will primarily work at the offices at the Johann-Krane-Weg.
She will join MSB as a full Academic Researcher and as such will also be teaching three seminars:

"Research Seminar" (in cooperation with Neele Petzhold) and

"International Business Project" both as part of the Masters course "International Marketing & Sales",

"Innovation Marketing" as part of the Bachelor module "Strategic Marketing".

Lina is currently working on her PhD concerning "The Nexus between Social Relations and Technology Transitions". She will be working within the "5TOI" (Open Innovation in the Mediterranean Neighbourhood – Water, Agriculture & Energy") – HORIZON2020 project as well as in the "Mastering Disruptive Change" – BMBF project.
Furthermore, there are two co-authorship papers planed with the S2BMRC. Both in international peer reviewed journals.