8th joint PhD-Workshop of S2BMRC together with VU Vrije Universiteit Amsterdam in Münster
November 10, 2016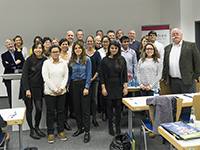 The 8th Joint PhD-workshop achieved to bring together 19 PhD candidates and 6 academy faculty members in the series of Joint PhD Workshops between the Free University Amsterdam (VU Amsterdam) and Münster University of Applied Sciences (MUAS) through its S2BMRC.

The Academic Faculty board composed by six members, discussed on a panel "The role of Theory in a PhD research". The academic faculty group was composed by: Prof. Ulrike Meyer from Hochschule Osnabrück, Prof. Ingrid Wakkee from HvA, Prof. Reiner Kurzhals from MUAS, Prof. Bart Bossink and Prof. Peter van der Sijde from VU Amsterdam, and Prof. Thomas Baaken from S2BMRC chairing the 8th Joint PhD-Workshop. For the start the most advanced PhD students presented their research and theories to analyse different research phenomena on Innovation, University-Business Cooperation and Technology Transitions.

Further, each one of the PhD candidates, presented their research in tracks. The faculty provided valuable feedback to each of the PhD candidates on their Theoretical Framework for their PhD research.

In this occasion the Hogeschool van Amsterdam (HvA) assisted to the workshop. Prof. Ingrid Wakkee, who is co-supervising Sue Rossano-Rivero from the S2BMRC and is currently a Professor in Entrepreneurship at the HvA, and she brought with her two of her PhD candidates to join the workshop.

The workshop was enhanced by the participation of PhD students from 12 different nationalities and faculties. From the entrepreneurship faculty at the HvA, Sultan Goksen and Martin Haring from the Netherlands presented their research progress on entrepreneurship education. From the Innovation Faculty at the VU Amsterdam, Wenjing Cai from China; Sayed Mousavi from Iran; Mia Indriani from Indonesia; Jaan Kets and Inge Oskam from the Netherlands presented their research on innovation at organisations. From the Organisational Sciences Faculty at the VU, Sandra Hasanefendic from Serbia (also Portuguese nationality), Hans Frederik and Louise van Weerden from the Netherlands, presented their research on Higher Education and the interaction with the industrial environment. From the same faculty and university Priyanka Banerjee from India and Angelo Romasanta from Philippines presented their research on the adoption of innovation.

S2BMRC was represented by its seven PhD candidates presenting their research on topics related with University-Business Cooperation, Entrepreneurial Innovation and Disruptive Change Management. Balzhan Orazbayeva from Kazakhstan; Lina Landinez from Colombia (also Australian nationality), Neele Petzold from Germany, Mihai Melonari from Rumania; Alexander Schmidt; David Serbin both from Germany and Sue Rossano-Rivero from México.

The next joined PhD workshop, in spring 2017, will take place in Amsterdam and will be focused on reviewing the progress of the PhD participants, applying a PhD Logbook to the process as well as connecting the Theoretical Framework with the methodology and its contribution to theory.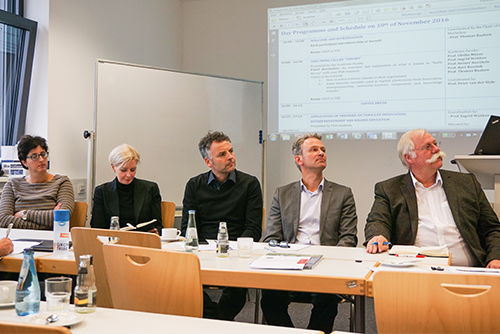 From left: Prof. Ingrid Wakkee, Prof. Ulrike Meyer, Prof. Reiner Kurzhals, Prof. Bart Bossink, Prof. Thomas Baaken (and Prof. Peter van der Sijde not visible due to moderation).