Ethiopian delegation visits MUAS and S2BMRC
January 12, 2017
On Thursday - January 12, 2017, a group of Ethiopian Vice Presidents for Research and Community Service visited Münster University of Applied Sciences (MUAS) as part of the HELM Programme (Higher Education Leadership and Management Programme).

The Deutsche Gesellschaft für Internationale Zusammenarbeit (GIZ) initiated the programme to provide technical support to the Ethiopian Ministry of Education and its subsidiary institutions through its Sustainable Training and Education Programme (STEP). During its current implementation phase, STEP has started implementing a variety of activities in the areas of higher education strategy development, leadership capacity development, quality management, technology transfer, university-industry linkages and entrepreneurship development. A main objective of the entire initiative is to improve leadership capacities of local staff in the field of higher education in a lasting manner.

During their visit at Münster UAS, the participants aimed at comparing theory and practice of quality management at a university, enhancing their knowledge in quality management approaches as well as their knowledge in process management approaches and wanted to exchange know-how with experts from the university.
One presentation in the daylong series of presentation was delivered by Prof. Dr. Thomas Baaken, who introduced the Science-to-Business Marketing Research Centre and its tool boxes and strategic approaches. The presentation was received with great interest among the Ethiopian guests.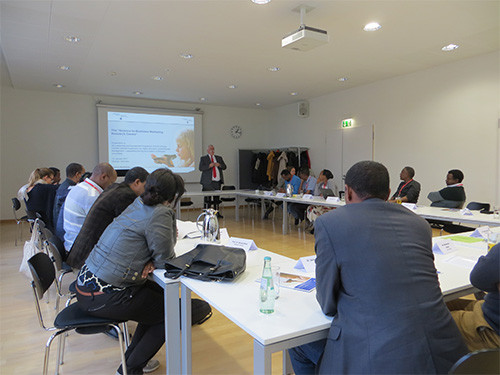 Prof. Dr. Thomas Baaken presenting the Science-to-Business Marketing Research Centre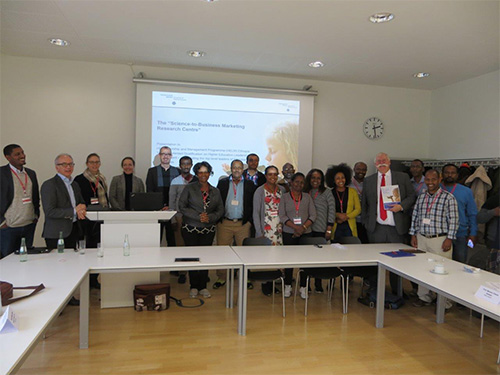 The Ethiopian group of Vice Presidents for Research and Community Service with their hosts from Münster