S2BMRC started its year of 15th anniversary by partnering with the UIIN Conference hosted in Adelaide, Australia
February 17, 2017
UIIN, together with The University of Adelaide, Flinders University and UniSA, the University of South Australia, has launched its first Asia-Pacific Conference in Australia on University-Industry Engagement. 207 participants from 29 countries attended the event. Over three days the conference gave access to a wide variety of presentations and workshops from academics and practitioners on University-Industry engagement. The conference was providing a platform to interact, share knowledge, and establish new contacts with peers.

In 2003 the first Science-to-Business Marketing Conference on "Science Marketing and Successful Research Commercialisation" was launched in Adelaide. Now, 15 years later the successor conference of UIIN found its way back to Adelaide.

The S2BMRC and UIIN team: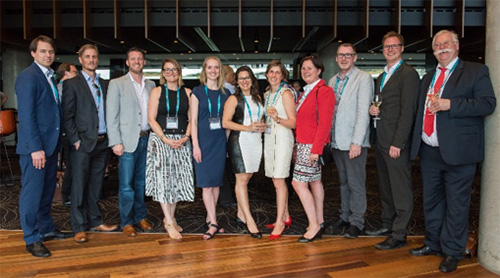 From left: Arno Meerman (UIIN & S2BMRC), Prof. Dr. Todd Davey (S2BMRC & UIIN), Cameron McCoy (UIIN & Lehigh Univ.), Dr. Nathalie Forde (UniSA), Femke de Jong (UIIN), Isadora Salviano (UIIN), A/Prof. Dr. Carolin Plewa (ECIC & S2BMRC), Friederike von Hagen (S2BMRC), Prof. Dr. Paul Coyle (UIIN), Dr. Thorsten Kliewe (UIIN), Prof. Dr. Thomas Baaken (S2BMRC & ECIC).

A number of activities have taken place:


Workshop (15.2.) Science-to-Business Marketing - Complementing Technology Transfer by a pull approach www.uiin-asiapacific.com/index/program in Adelaide City Hall
Reception (15.2.) of the Conference Get Together.
Awarding A/Prof. Carolin Plewa from Adelaide Uni with an Adjunct Position in S2BMRC in Münster (15.2.) www.science-marketing.com/index/team
Science-to-Business Marketing Track: "Scientific: Science-to-Business Marketing - Transferring Knowledge from University to Market " (16.2.), chaired by Prof. Thomas Baaken
Best paper Award of the Conference sponsored and awarded by S2BMRC (16.2.)
Next Practice Paper presentation on "Projects with Students for Companies - A Reflection on 15 Years of Experience" (17.2.)


Workshop: The workshop was aiming to TTO professionals and University Engagement Officers. It addressed some instruments of the S2B Marketing toolbox, particularly the Potential Business CanvasTM , which was developed by the S2BMRC and indicates not only the market potential, but offers strategies and operations how to access this potential and lead a university unit to market success.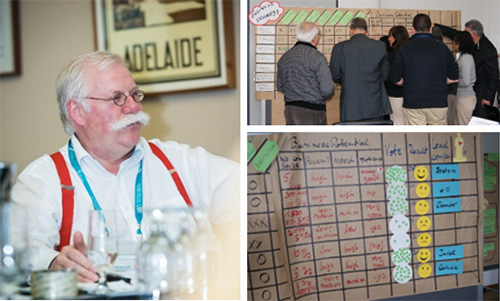 Reception: Prof. Dr. Baaken presented the laudation speech on the 15th Anniversary of the Science-to-Business Marketing Research Centre the Conference Reception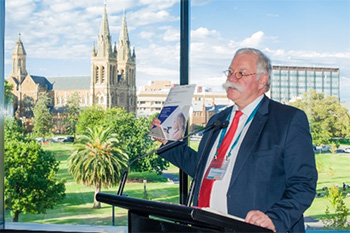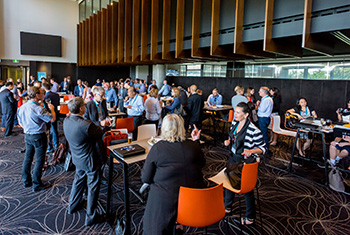 Awarding: In his laudation on A/Prof. Carolin Plewa of handing over the "Adjunct Scientific Fellow" Award Prof. Baaken mentioned the dedication to the topic of University-Business Cooperation and Science maekrting but also the collaboration of Prof. Plewa with the S2BMRC
www.science-marketing.com/index/newsdetail/id/130




Best Paper Award of the Conference went to Prof. Dr. Knut Koschatzky from the Fraunhofer Institute for Systems and Innovation Research ISI in Karlsruhe, Germany. The Scientific Board has carefully chosen the award based on the papers quality and innovativeness. The title of the paper was A theoretical view on public-private partnerships in research and innovation in Germany.
The Best paper Award was sponsored by the Science-to-Business Marketing Research Centre and hand over by Prof. Dr. Thomas Baaken S2BMRC and A/Prof. Dr. Carolin Plewa from ECIC of Adelaide Uni.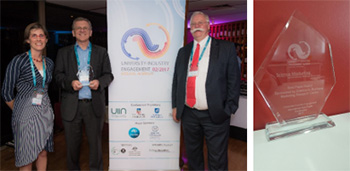 A/Prof. Carolin Plewa, Prof. Knut Koschatzky, Prof. Thomas Baaken

Next Practice Paper presentation of Prof. Thomas Baaken and Friederike von Hagen on "Projects with Students for Companies - A Reflection on 15 Years of Experience". The S2BMRC created and developed rather to perfection a format of involving Bachelor and Master students in Industry projects. They shared the Triple Win concepts along 10 key elements which have to be included to make it rather a success for Companies, Students and Lecturers.

A second paper, presented by A/Prof. Dr. Carolin Plewa (ECIC), Dr. Victoria Galán-Muros and Prof. Dr. Todd Davey (S2BMRC) addressed a vision based on several survey of S2BMRC, ECIC and UIIN: The Future of University Business Cooperation – Research, Practice and Policy