European Academics Say That They See Themselves As The Main Initiator Of UBC – Business Disagrees
March 08, 2017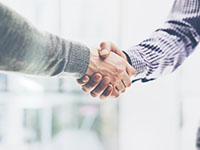 The following article initiates the dissemination of the results of the largest UBC study "State of European University-Business Cooperation" which is commissioned by the European Commission and managed by S2BMRC as the lead partner.

The study undertaken between September and December 2016 sought to explore this topic further by posing the question 'Who initiates university-business cooperation?' to both academics and businesses alike.


European academics say that they see themselves as the main initiator of UBC

The study revealed that European academics believe that they are usually responsible for starting cooperation activities. Academics believe that the most common way to start cooperation with business is through their own initiative or through the initiative of a colleague, whilst the least likely commencement point for cooperation was through current students. Internal intermediaries, university management, business, alumni, external intermediaries and government were approximately equally likely to initiate cooperation.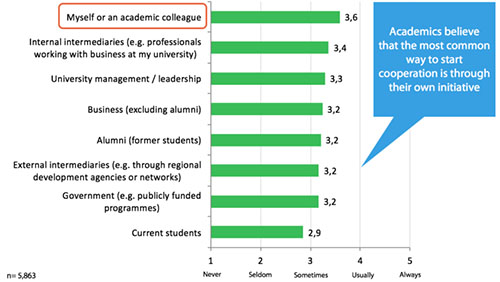 The majority of European businesses state that their organisation is the main initiator of UBC

In contrast to European academics, the participating business people perceive their own organisation to be detrimental for the initiation of university-business collaboration. According to business people from over 30 countries, the rank their own organisations as the driving forces for cooperation with a higher education institution, far more than university alumni working at their businesses, who just sometimes establish collaboration with academia.
From the business respondents point of view, internal intermediaries within the university are rather seldom responsible for initiating UBC, whilst external intermediaries who work for regional development agencies or networks are perceived to be the least likely to start cooperation activities.

Key insights and the growing importance of intermediaries

Given that these results are perceptions of the respective stakeholders, the reality may differ. Nevertheless, agencies looking to support cooperation can take away the following insights:


If this is indeed true that academic and businesses are commencing their own cooperation, then the role of intermediaries could be to get around the academics and businesses to support them in their endeavors (e.g. help them to reduce bureaucracy associated with cooperation)

The wide range of initiators suggests there are actually multiple initiators of UBC with academics, business and alumni leading actors in commencing cooperation activities.

The lack of recognition of intermediaries by business particularly highlights either the potential for intermediaries to improve in this area, or given that UBC is driven by people and relationships (Davey et al. 2011), that intermediaries could take the role of supporting relationships as much as any introductory role they might have.



How does cooperation commence?

Initiating cooperation between university academics and businesses requires individuals and groups to identify potential partners and engage in initial contact, before identifying whether and how the potential collaboration could work. Rather than individually driven direct advances of either side, individuals commonly meet potential partners in open forums, including workshops and industry conferences, networking sessions or other social functions (Plewa et al., 2013). Referrals from colleagues are also ways in which initial contact is made, further demonstrating the importance of a social and professional network for the initial introductory phase.
What appears paramount is the personal connection or the chemistry between individuals seeking and assessing opportunities for working together. As people identify each other, develop joint opportunities and create the foundations for the collaboration to happen, it is the melting pots that bring diverse people together and enable such chemistry to happen.

For more information visit us on our UBC blog, LinkedIn or Twitter.

References:

Plewa, C., Korff, N., Johnson, C., Macpherson, G., Baaken, T., and Rampersad, G. (2013) "Evolution of University-Industry Linkages – A Framework", Journal of Engineering and Technology Management, 30 (1), 21-44

Davey, T., Baaken, T., Galán-Muros, V., Meerman, A.; (2011), 'Study on the cooperation between Higher Education Institutions and Public and Private Organisations in Europe'. European Commission, DG Education and Culture, Brussels, Belgium; ISBN 978-92-79-23167-4, (Book/Report)