Academics from University of Santiago of Chile visited MUAS and the S2BMRC to learn more about university engagement
March 28, 2017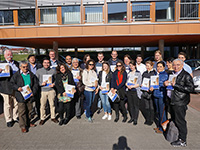 A group of academics from the Faculty of Engineering of the University of Santiago of Chile (USACH) visited Münster University of Applied Sciences (MUAS) and the Science-to-Business Marketing Research Centre (S2BMRC) for one week. During their visit, the participants aimed at getting new insights and solutions on University-Business Cooperation, Partnership Development, University Engagement and Technology Transfer. The visitors embarked on a training session of MUAS' "Professional Development Programme - Technology Transfer 3.0" to exchange know-how with experts from the field.

The presentations and workshops delivered by Prof. Dr. Thorsten Kliewe on "University Business Cooperation" (UBC) and "Technology Transfer" as well as the "Business Model Canvas" and by Prof. Dr. Thomas Baaken on "Science-to-Business Marketing" and the "Business Potential Canvas" were received with great interest.

The delegates also attended on site visits to SETEX-Textil GmbH in Greven due to its shift in UBC and to NanoBioAnalytic Centre e.V. in Münster due to its unique concepts of incubating start-ups and spin offs.

Both sides, USACH and MUAS/S2BMRC are looking forward to intensify and strengthen their links and connections.