IE-WEXHE kick-off at University of Groningen
March 25, 2017
Groningen

An international consortium met for a kick-off meeting in Groningen, Netherlands for "IE-WEXHE - Integrating Entrepreneurship and Work Experience into Higher Education" Erasmus+ Knowledge Alliance project.

IE-WEXHE is an intentional action of European HEIs, enterprises and associations, where partners come together to identify and analyse current provision of work experience in HEIs in 7 different EU countries, generating 84 case studies of work-based learning (WBL) involving four types of disciplinary sectors, hard-pure, soft-pure, hard-applied, soft-applied, and covering work placements, traineeships and entrepreneurships. This will enhance the value of HE and support the transition of graduates into employment and career success. The international consortium will implement the project by building on past research and existing practice, engaging stakeholders and practitioners, developing tools and capacity, informing policy and piloting ways forward.

The event was hosted by the University of Groningen, project leader organisation. The kick-off meeting was opened by Robert Wageenar, coordinator of the project and expert in WBL as well as Ingrid van de Meer, with a welcome speech and presentation of the project outline for the next 3 years of collaborative effort of international consortium. Balzhan Orazbayeva, research associate at S2BMRC, presented the research methodology and designed research instruments, which will be utilized by all partners during the first year of the project, setting ground for further development of 12 integrative sectoral WBL modules for HEIs.

S2BMRC has been represented by its managing director Prof. Dr. Thomas Baaken and research associates, Balzhan Orazbayeva and Andre Perusso.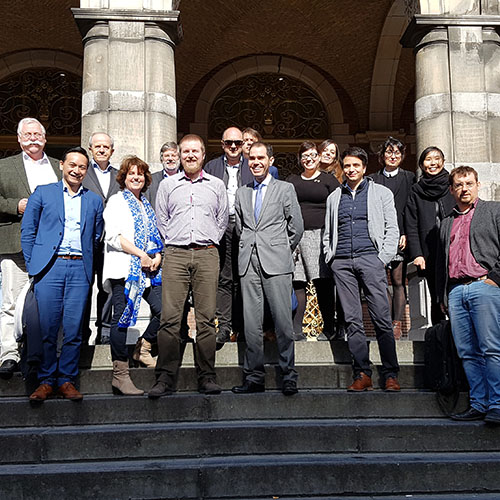 IE-WEXHE international consortium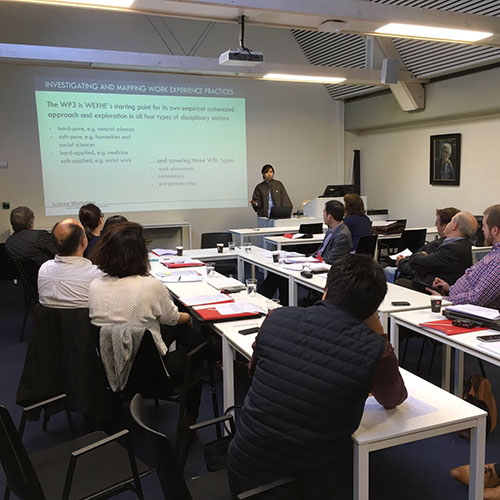 Balzhan Orazbayeva presenting research methodology