A warm welcome to André Perusso at the S2BMRC
April 01, 2017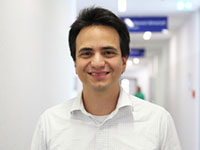 The S2BMRC is very happy to welcome André Perusso at the S2B office.

André Perusso, a Brazilian by birth, holds a master degree in Finance from the University of Birmingham, UK, and has worked for years in investment banking in Brazil. In 2010 he started to lecture finance-related subjects. Since 2015 André Perusso is working on his PhD in the field of active-based learning in management education. As a research assistant und lecturer, he also holds classes on corporate finance and Latin-American economy at the FH Münster.

At the S2BMRC he will be responsible for the "IE-WEXHE - Integrating Entrepreneurship and Work Experience into Higher Education" Erasmus+ Knowledge Alliance project.

IE-WEXHE is an intentional action of European HEIs, enterprises and associations, where partners come together to identify and analyse current provision of work experience in HEIs in 7 different EU countries, generating 84 case studies of work-based learning (WBL) involving four types of disciplinary sectors, hard-pure, soft-pure, hard-applied, soft-applied, and covering work placements, traineeships and entrepreneurships.