Kick-Off Event of Co.Creation.Lab. - Project conducted by S2BMRC
May 03, 2017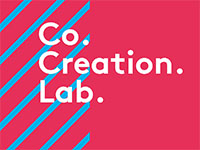 On the 09 of May, 2017, Mihai Melonari and Tristan Konrad from S2BMRC will inform all potential stakeholders on the development and the project planning of the Co.Creation.Lab.

The Co.Creation.Lab. aims at designing a physical room according to the Design Thinking Principles that will support students´ creativity, interdisciplinary networking and problem solving skills. S2BMRC leads the project and is responsible for its implementation within FH Münster.

Find out more about the project "Co.Creation.Lab." by visiting the information event:

When: 09 of May, 2017, 6 pm to 7.30 pm

Where: Foyer of FH Münster, Corrensstraße 25, 48149 Münster

Click here for the official invitation.