S2B members conducted workshop with participants from 13 nationalities
May 12, 2017
Münster

S2B members David Serbin and Alexander Schmidt led an international workshop on the assessment of market opportunities. The two academic researchers welcomed over 40 highly motivated participants from 13 different nations to an interactive workshop format.

Within the session, MBA students from the West Virginia University together with international Bachelor students from the FH Münster worked on two "real world" industry projects which are managed by 3 Master students from FH Münster. "We highly appreciate the valuable thoughts and reflections from our international visitors. They will definitely enrich our projects" said David and Alexander. The two are confident that all participants will take new methods and positive impressions home.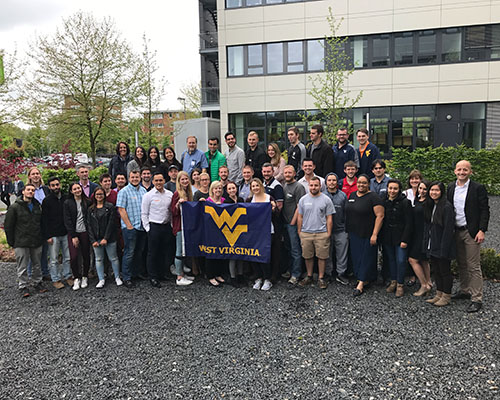 S2B members welcomed international workshop participants

Project #1
The topic for the workshop was the US automotive market outlook for the year 2030 on the development of the lightweight materials, specifically aluminum and carbon fiber. The workshop concentrated on forecasting and building different scenarios about the future of the industry with respect to the topic.

At the beginning, the process of the Scenario Planning was explained. Afterwards Bachelor students, who are working on the project, presented their factor PESTEL analysis. Four different groups were built to encourage participation and collaboration between the MBA and Bachelor students. A Scenario matrix and four different pathways were derived by all the students together, including "Status Quo for 2030" and a "Wild Card" Scenario. Afterwards, each group built a story about how the lightweight materials market will be affected if all the factors were to come true.

The outcome in the form of four scenarios was presented to all the students in a story-telling manner and will be further elaborated before recommendations to the project partner will be delivered in Mid-June 2017.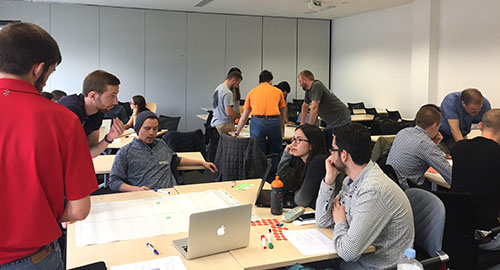 Project #2
The second workshop stream focused on the German snack product market. Whereas current worldwide trends in this category have been already analysed, the workshop stream helped the project team to enlarge the list of potential new snack products for the company in focus.
The stream was split into two sections. Within the first section, food trends in the U.S. market and consumer insights were collected and analysed. The second section was dedicated to creativity methods. With the help of a morphological box and the persona method, identified results were consolidated and mapped to discuss the probability of market acceptance for the potential products.

At the end of the workshop, a range of products was mapped to five archetypical consumers. Concrete recommendations based on the workshop results will be delivered to the project partner in Mid-June.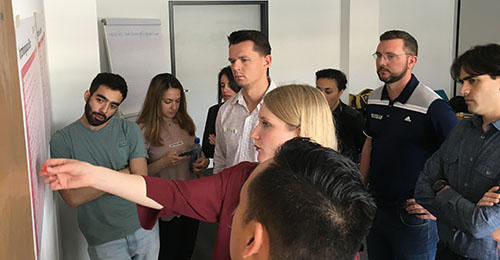 Workshop participants intensely work and research on market opportunities.