Award of Excellence for S2B Team members Neele Petzold and Mihaela Simeonova
May 19, 2017
Münster

Münster University of Applied Sciences awarded prices of Excellence to best performer in the year 2016. During the event "Ausgezeichnet" (Excellent) the best performers of the year 2016 have been honored in front of the University public. The President of the University Prof. Dr. Ute von Lojewski congratulated the best students.

Neele Petzold received the Award of Excellence for the best Master Thesis of Münster School of Business. The thesis "From social to sale: User acceptance of buy buttons on social networks in Germany" was prepared in cooperation with Beiersdorf AG in Hamburg, promoted by Prof. Bert Kiel and Prof. Thomas Baaken. It was dedicated to the question if there is acceptance for pop ups and promotion – transactual activities so to say – on social network activities. Using a structural equation model Neele Petzold confirmed several hypothesis based on her research questions.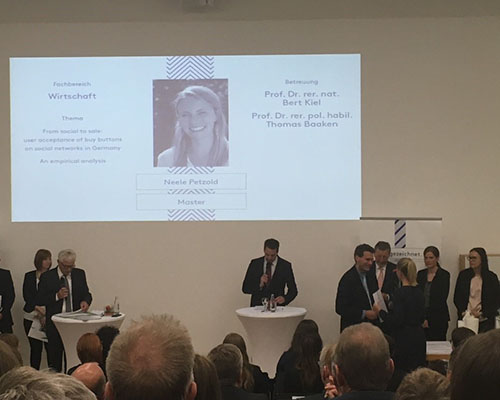 Neele Petzold received the award by Prof. Dr. Frank Dellmann, Vice President Student Affairs Internationalisation, laudation held by Prof. Dr. Richard Korff, former Vice President Research and Teaching.

Mihaela Simeonova received the Award of Excellence for her engagement and best performance in caring and mentoring of foreign students to get them better aligned with the universities' culture and challenges and integrate them in German society and culture. It was named "Building Bridges". The Award is donated by the DAAD Deutscher Akademischer Austauschdienst (German Academic Exchange Service). Mihaela was proposed by Prof. Bert Kiel as she is studying MIMS "Master in International Marketing & Sales" ; she has graduated in her home country Bulgaria, but also studied in Istanbul Turkey and London UK.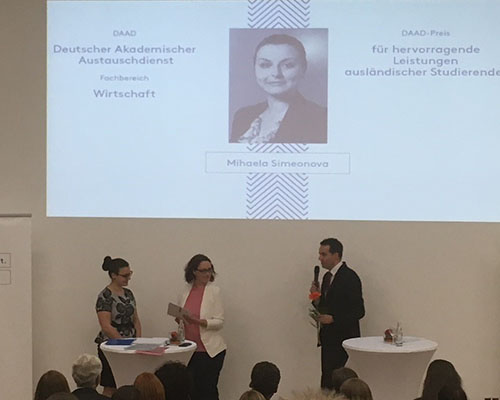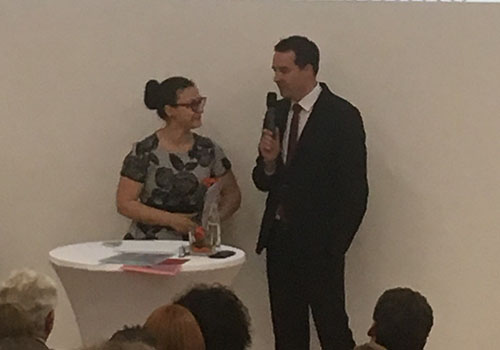 Mihaela Simeneova receives the Award and is interviewed by Casten Schröder, Vice President Research Management and Transfer.

Prof. Dr. Peter van der Sijde, VU Vrije Universiteit Amsterdam was attending the event, because also Dr. Victoria Galán Muros received an honorable mention on the event for her doctoral thesis "The University Business Cooperation Ecosystem: an Evidence-Based Approach managing European UBC", promoted by Prof. Peter v. d. Sijde and Prof. Thomas Baaken. Victoria received a 3 years scholarship of the University to complete her cooperative PhD with VU and S2BMRC.

The entire Team of S2BMRC extends its congratulation to the 3 best performing students and is looking forward to further working with them.