Tomorrow's Land Transnational Partners Meeting in Milan
June 21, 2017
Milan

On July 19th and 20th, two team members from S2BMRC, Balzhan Orazbayeva and Benjamin Conard, attended the Tomorrow's Land partners meeting at Polytechnic University of Milan, Italy.




Tomorrow's Land is a project co-funded by the Erasmus+ Strategic Partnership Programme of the European Union and its goal is to develop the next generation of social innovators fully capable of influencing and contributing to the development of a better, more inclusive and innovative society.

The two-day meeting had representation from businesses, universities, and NGO's from six European countries including Regenerus in Merseyside, United Kingdom, Advancis in Matosinhos, Portugal, Bespoke in Copenhagen, Denmark, Politecnico di Milano in Milan, Italy, Münster University of Applied Sciences in Muenster, Germany, and Social Innovation Centre in Daugmale, Latvia.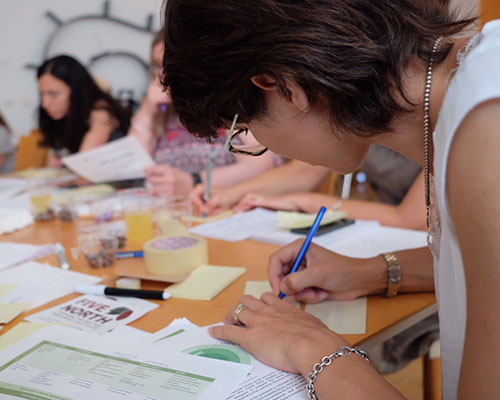 Balzhan, Benjamin, and Nicolas Arroyo from Bespoke presented the Strategic Foresight Report, the first intellectual output of the project, and their findings thus far. Additional topics discussed included development of the learning framework, dissemination activities, and the development of the next intellectual outputs and deliverables.

Tomorrow's Land will continue to be developed through December 2018 and we are looking forward to the lasting impact it will have on the next generation of social innovators. Learn more about Tomorrow's Land, here!

"The European Commission support for the production of this publication does not constitute an endorsement of the contents which reflects the views only of the authors, and the Commission cannot be held responsible for any use which may be made of the information contained therein."