9th joint PhD-Workshop of S2BMRC together with VU Vrije Universiteit Amsterdam organised as a HTSF Conference Workshop
June 22, 2017
Amsterdam

The 9th Joint PhD-workshop together 14 PhD candidates and 8 academy faculty members in the series of Joint PhD Workshops between the Free University Amsterdam (VU Amsterdam) and Münster University of Applied Sciences (MUAS) through its S2BMRC. This time the workshop was linked to the HTSF Conference and organized as a Workshop of the conference.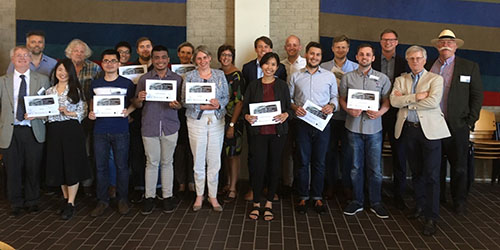 The Academic Faculty board composed by 9 members, discussed on a panel "New Ways of Research Commercialistion and TechTransfer". The academic faculty group was composed by: Prof. Gary Cook from Liverpool University, Prof. Ray Oakey from Manchester University, Prof. Ingrid Wakkee from HvA, Prof. Reiner Kurzhals from MUAS, Prof. Bart Bossink Prof. Peter van der Sijde and Dr. Kevin Augustijn all three from VU Amsterdam, and Prof. Thomas Baaken and Prof. Thorsten Kliewe both from S2BMRC at MUAS.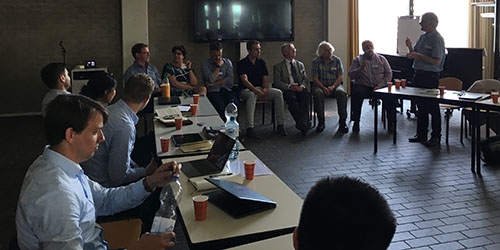 Further, each one of the PhD candidates, presented their research in tracks. The faculty provided valuable feedback to each of the PhD candidates on their contribution to society by their PhD research. The workshop was enhanced by the participation of 14 PhD students.


From the VU the following PhD candidates presented their work: Martin Haring, Qiong Ji, Jin Han, Shuijing Jie, Sayed Mousavi, Jaan Kets, Louise van Weerden, Angelo Romasanta


From MUAS the following PhD candidates presented: Balzhan Orazbayeva, Mihai Melonari, Alexander Schmidt, Arno Meerman, Cornelius Brosche, Henrik van Düllen

The next joined PhD workshop will take place in Münster again on the 30th November and 1st December 2017.