Minister Andreas Pinkwart visits S2BMRC
July 29, 2017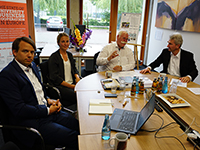 Prof. Dr. Andreas Pinkwart, new State Minister for Economic Affairs, Digitization, Innovation and Energy in the recently established government of North Rhine-Westphalia, visited the S2BMRC. Minister Pinkwart is also Deputy Minister-President of North Rhine-Westphalia. He previously served as Dean of Leipzig Graduate School of Management and holder of the Deutsche Bank Chair of Innovation Management and Entrepreneurship.

The Science-to-Business Marketing Research Centre of Münster University of Applied Sciences is a State recognized Research Centre of North Rhine-Westphalia (Anerkannter Forschungs- und Entwicklungsschwerpunkt des Landes NRW) since its year of foundation 2002.

The visit targeted to three main topics:

Science-to-Business Marketing (S2BM) Concepts: How to market research, research competencies and outcome to businesses and industry. The Centre reported on the toolbox it has compiled, with over 100 instruments and approaches to market science based on the transactual model.
University-Business Cooperation (UBC) Approaches: How to better link Higher Education Institutions (HEIs) with external organisations like business and NGOs. The Centre showcased its UBC-Ecosystem model, which has been validated in workshops and training with more than 100 stakeholders across the globe.
Sciences Driven Innovation (SDI): The Centre is running a number of projects on topics like Knowledge based Entrepreneurship, Hybrid Value Creation and Managing Disruptive Change

The discussion tackled relevant issues to unlock the potential of S2BM, UBC as well as SDI for developing the new knowledge society.

Currently, the S2BMRC is conducting a large study for the European Commission which is looking specifically at seeking qualitative and quantitative evidence to develop a deeper understanding of how the fields can contribute and strengthen the relations between university and business to improve economy, competitiveness and to better align the interests of business and HEIs with the needs of society. This study directly links towards the aims and initiatives of the NRW Ministry on further fostering the interaction between HEIs and external organisations and develop themselves as key drivers of innovation.

As a leading centre in this field, the S2BMRC was acknowledged as a key stakeholder towards further unlocking the innovation potential of NRW and providing insights towards the NRW Ministry to support this process.