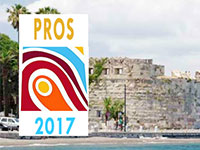 Kos, Jun 22, 2017 - Jun 24, 2017


Neele Petzold and Lina Landinez, two members of the S2BMRC, were invited to attend the 9th International Process Symposium on Institutions and Organizations: A Process View in Kos, Greece (http://osofficer.wixsite.com/pros). The PROS takes place every year and is a meeting point for researchers from all around the world to discuss the worldview that organizations are constituted by processes rather than entities that everything is in a constant flux. The aim is to complexify scientific research rather than to abstract and simplify. This allows to better understand and help practitioners in the uncertainty and ambiguity arising from a continuously changing environment characterized by frequent disruptions.


Lina Landinez and Neele Petzold presented their paper called "The Process of Disruptive Innovation. A Systematic Review." during one of the workshop sessions, moderated by Ann Langley from the HEC Montréal and got very positive and also valuable feedback on how to improve and extend the current version of the paper towards a framework for identifying disruptive innovations ex ante.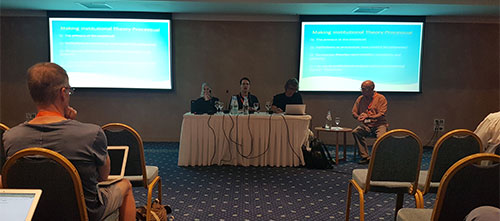 During the conference, they were also able to discuss their approach with other well-known researchers in the field of disruptive innovation and the process view such as Raghu Garud from the University of Pennsylvania and Aljona Zorina from the University of Leeds.




Further inspiration was drawn from the very well-selected keynote speakers Ted Schatzki from the University of Kentucky, Francesca Poletta from the University of California, Irvine and Stephen Barley from the University of California, Santa Barbara.



The conference was valuable in three different ways:



As a PhD student it was a great honor and a great inspiration to work and discuss with renowned researchers in our field and get their ideas and their understanding of complex issues such as the process of innovation and the philosophy of the process view;


As a member of the University of Applied Sciences Münster to represent the University and its mission and vision to members of elite universities such as MIT, Cambridge, Warwick and UPenn;


As a researcher and practitioner to be able to represent and emphasize the valuable role of University-Business-Collaborations to experts with a stronger focus on the theoretical and philosophical world of research.



We want to thank those who made it possible for us to attend such a valuable and inspiring conference and strongly encourage other researchers to attend these conference in order to meet and get in contact with experts in the field and senior editors of well-known and high-ranked journals to continuously extend ones network and the network of the University.