S2B initiative UIIN shapes Berlin Innovation Consensus Charter
September 01, 2013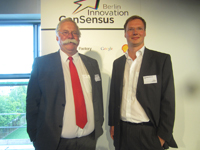 On September 1st, 2013, Thorsten Kliewe (Chairman of UIIN and Team Member of S2B) and Thomas Baaken (Director of the Science-to-Business Marketing Research Centre) went to the final event of the 2013 Berlin Innovation Concensus to represent UIIN as one of the top 25 projects selected in the initiative. The main aim of the Berlin Innovation Concensus is to develop and promote a charter of the 10 most relevant aspects supporting the enhancement of the innovation climate in Germany. Initiated by Google, Shell, Deutsche Bank and factory, the project started in June this year with a community sourcing of ideas and projects. Overall, nearly 400 project submissions have been made during the community sourcing phase. The top 25 projects were then selected and discussed by 34 experts from business, science and culture in a 1.5 day event in order to derive the most relevant opportunities for enhancing the innovation culture in Germany.

According to the experts, the approach of UIIN to foster linkages between science and business organisations to generate benefits for both parties and society in general has been extensively discussed during the 1.5 day consensus workshop and was found to be a key driver the German innovation climate. Therefore, the Berlin Innovation Consensus Charter states as one of its 10 key challenges of Germany's future: "Science and industry + society must pull together to create integrated and lifelong learning infrastructures". During the final event with more than 200 invited guests, the charter has been handed over to Anne Ruth Herkes, State Secretary of the German Ministry for Economics and Technology.

"We are proud that our initiative and the work of UIIN and the Science-to-Business Marketing Research Centre received such high recognition at the highest level in Germany", says Prof. Dr. Thomas Baaken, Director of the Science-to-Business Marketing Research Centre.