Battling the Dragons – Student Innovation Challenge
November 14, 2017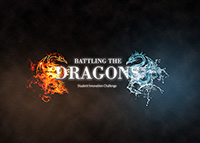 On November 23rd, Business and Marketing Master Students from the Innovation and Entrepreneurship course leaded by Prof. Thorsten Kliewe and Bachelor Students from the Innovation Marketing and Management course leaded by Lina Landinez will join in a dynamic presentation evening.

The Fire and Water Dragons concepts were developed in order to differentiate masters from bachelor projects, as the classes had different aims. The first one focus on developing business innovations, while the bachelor students focus on technology-driven innovation from an existing project in partnership with Wasser 3.0 (www.wasserdreinull.de)

Students will be challenged by 5 Business Dragons (experts), which will compose the jury for the innovative ideas. Audience will also have the opportunity to vote for their favourite ideas. After the presentations, the most innovative ideas will be honoured with Dragons Award and Audience Award, followed by pizza and networking.

The evening is taking place at the Fachhochschulzentrum, Room B-008, and is open for free registrations at www.dragonsbattle.com

About Battling the Dragons:

Inspired on the TV show "Dragons Den" (in German Die Höhle der Löwen), Battling the Dragons is the annual final presentation of the innovative ideas developed during master and bachelor Business and Marketing students at the FH-Münster. Master students participated in the Innovation and Entrepreneurship class to develop business-driven innovation ideas. Bachelor students attended to the Innovation Management and Marketing class to develop technology-driven innovation ideas in partnership with "Wasser 3.0." (www.wasserdreinull.de). The Battle will be held in a 3 minute Pitch format, followed by questions and feedback from the Dragons.