Working and celebrating: The 10th joint PhD-Workshop of S2BMRC together with VU Amsterdam
November 30, 2017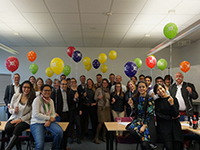 S2BMRC and VU are proudly announcing their 10th PhD Workshop. This time it wasn't only work, but also celebrating the jubilee.

In this occasion the Hogeschool van Amsterdam (HvA) joined in to the workshop. Prof. Ingrid Wakkee, a former Research Associate at the VU Amsterdam and current professor in Entrepreneurship at the HvA, brought her PhD candidates.

Celebrating the 10th PhD-Workshop.


The subject and objective of the Workshop was defined as "Conceptualising the Research by Creating a Conceptual model".

This time 30 participants – candidates from four and faculty from five Universities – worked on the PhD projects.

Participants

Candidates Münster: Science-to-Business Marketing Research Centre:

1. Alexander Schmidt – Münster University of Applied Sciences & VU Amsterdam
2. André Perusso – Münster University of Applied Sciences & VU Amsterdam
3. Arno Meerman – Münster University of Applied Sciences & University of Twente
4. Balzhan Orazbayeva – Münster University of Applied Sciences & VU Amsterdam
5. Carina Alfert – Münster University of Applied Sciences & VU Amsterdam
6. Eva Sormani – Münster University of Applied Sciences & VU Amsterdam
7. Cornelius Brosche – Münster University of Applied Sciences & VU Amsterdam
8. Neele Petzold – Münster University of Applied Sciences & VU Amsterdam
9. Sue Rossano – Münster University of Applied Sciences & VU Amsterdam

Candidates Amsterdam: SBI Science-Business-Innovation at VU and HvA:

10. Angelo Romasanta – VU Amsterdam
11. Anne-Sophie Andela – HvA Amsterdam
12. Anoesjka Timmermans – HvA Amsterdam
13. Hans Frederik – VU Amsterdam
14. Inge Oskam – HvA Amsterdam
15. Jaan Kets – VU Amsterdam
16. Jan Peter Doomernik – VU Amsterdam
17. Louise van Weerden – VU Amsterdam
18. Mia Indriani – HvA Amsterdam
19. Reza Esmailli – HvA Amsterdam
20. Sultan Goksen – HvA Amsterdam

Faculty:

1. Dr. Kevin Augustijn – VU Amsterdam
2. Prof. Dr. habil. Thomas Baaken – Münster University of Applied Sciences & VU Amsterdam
3. Dr. Marlous Blankesteijn – VU Amsterdam
4. Prof. Dr. Bart Bossink – VU Amsterdam
5. Prof. Dr. Todd Davey – Münster University of Applied Sciences & MBS Munich Business School
6. a/Prof. Dr. Rainer Haarms – University of Twente
7. Prof. Dr. Thorsten Kliewe – Münster University of Applied Sciences
8. Prof. Dr. Reiner Kurzhals – Münster University of Applied Sciences
9. Prof. Dr. Peter van der Sijde – VU Amsterdam & Münster University of Applied Sciences
10. Prof. Dr. Ingrid Wakkee – HvA Amsterdam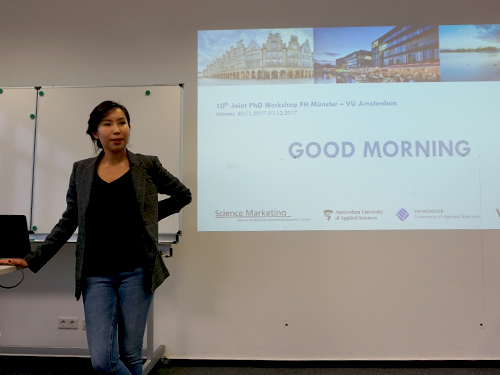 Balzhan Orazbayeva welcomes the PhD-Workshop guests.

The Academic Faculty board discussed on a panel the topic of Conceptualising Research. Further on the PhD candidate presented their research in 3 different tracks addressing their Conceptual Model. The faculty provided valuable feedback to each of the PhD candidates on their Conceptual Model for their PhD research.

The next joined PhD workshop, in spring 2018, will take place in Amsterdam and will be focused on reviewing the progress of the PhD participants, and applying a PhD Logbook to the process as well as connecting the literature based Research Gap and the project's contribution to Theory and its Managerial Impact.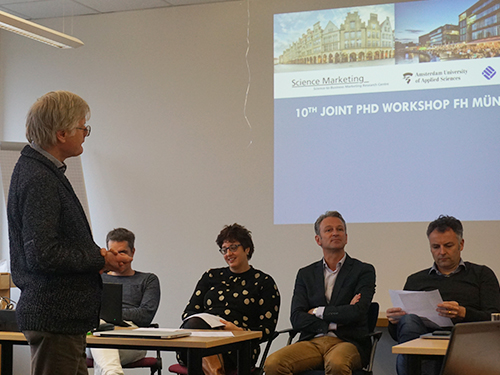 Prof. Dr. Peter van der Sijde presenting Workshop's panel.