About innovation, digitalisation, transformation, and disruption – hub.berlin 2017
November 28, 2017
Alexander Lennart Schmidt and Neele Petzold, two members of the S2BMRC were invited to visit the hub.berlin 2017 (https://www.hub.berlin/en) in Berlin on the 28th of November 2017. The theme of the conference was "Launching Digital Transformation into Reality" and is a festival for digital movers and makers.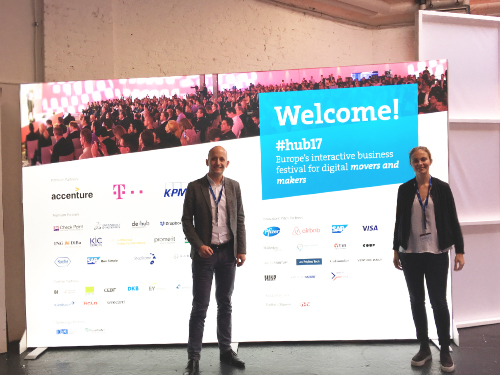 Alexander Lennart Schmidt (left) and Neele Petzold (right) at the hub.berlin 2017

It brought together key players of Europe's leading industries, politics and 500+ startups in a unique environment to discuss, shape and experience the digital transformation. Among the key issues discussed on the seven stages were innovative technologies like artificial intelligence, blockchain applications and mixed reality, the transformation of Europe's leading industries and the digitisation of politics and society.

Participants included leading opinion formers, entrepreneurs, academics and policy makers who pave the way for a digitised future.

For some insights, see the opening speech of Dr. Bernhard Rohleder, the CEO of Bitkom e.V. and Achim Berg, president of Bitkom e.V. and browse around for other talks on autonomous driving, flying cars, disruption in the insurance industry, artificial intelligence, blockchain, or virtual reality.

In several side discussions, Neele and Alexander got connected with managers, founders and industry experts across industries, who articulated their high interest in further collaboration in the topic of disruptive innovation. Further, the conference was an inspiration for understanding what is possible and what is already being done to guide a path into the future and serves as input for the research on MaDiC.