Professor Baaken appointed as external examiner at two Ph.D. defense at VU
January 22, 2018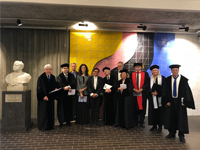 Amsterdam, 22.01.2018 and 08.11.2017

Professor Dr. Thomas Baaken (S2BMRC) has been appointed by the Department of Social Sciences at VU (Vrije Universiteit Amsterdam) as external examiner and opponent during the theses defense of two candidates. The candidates have been Sandra Hasanefendic (Serbian/Portuguese) and Firmansyah David (Indonesia). Both successfully defended their PhD theses:

Dr. Sandra Hasanefendic: "Responding to new policy demands: A comparative study of Portuguese and Dutch non-university higher education organizations"

The dissertation studies the responses of Portuguese polytechnics and Dutch hogescholen to new policy demands. These higher education organizations focus on training professionals through practical learning approaches in close collaboration with regional industries and communities. Such organizations have been undergoing changes related to their governance and educational provisions. National governments demanded them to focus on a research mandate and innovate educational provisions and training to be more responsive to the needs of local labor markets, industries, and communities. However, there is little research on how these organizations responded to those new policy demands in their local contexts or how they contributed to the training of an adequately skilled labor force.

Dr. Firmansyah David: "Conflicting Logics and Hybrid Strategies in University-Business Co-operation - An Empirical Study at Indonesian Universities"

The main goal of this dissertation is to answer how do the different institutional logics impact the participation behavior of academics in the complex environment of University-Business Collaboration (UBC) between university and the business world has become the fuel for innovation and economic growth. Nevertheless, UBC remains complex and is considered as a problematic task for universities and their business partners. When many countries design policy aimed to exploit science and knowledge produced by the university, it appears that many hurdles for government and university to maintain or even to start UBC.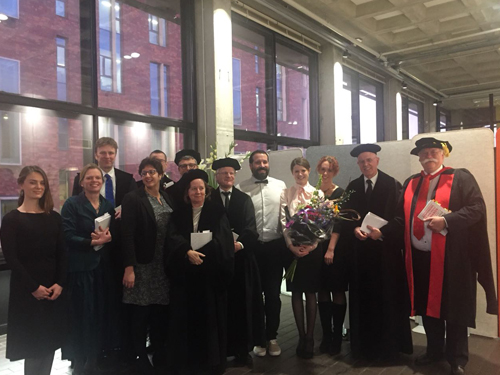 The academic title was awarded by the Department of Social Sciences at VU; first supervisor had been Prof. Dr. Peter v.d. Sijde (VU).
Congratulations Dr. Sandra Hasanefendic and Dr. Firmansyah David for your achievements.