Prof. Thomas Baaken presented at several occasions S2B Marketing in Havana, Cuba
February 16, 2018
Havana 08.02.-16.02.2018

1. Following an invitation to CUJAE - Instituto Superior Politécnico José Antonio Echeverría, Havana, Thomas Baaken delivered a presentation on "Key Elements of a successful Science-to-Business Marketing Approach" on the 8.2.2018. Delegates from the strategic units of the university discussed the benefits of UBC and its potential for CUJAE.

CUJAE the largest University of Technology in Cuba and it consists of seven faculties.
Including the engineering disciplines but also IT and natural sciences.

Vice Rector Dr. José Antonio Acevedo Suárez, recognised the mighty potential of this tailorable approach and noted that this approach will be most import for the future; not only for CUJAE but for Cuba in its whole. Professor Rubén Bancrofft facilitated the conference and led it to a vibrant and lively discussion.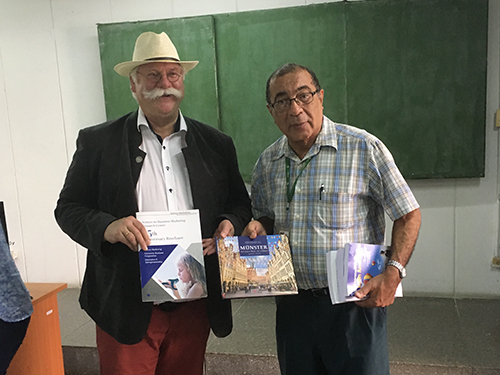 Prof. Dr. Thomas Baaken S2BMRC and Vice Rector Dr. José Antonio Acevedo Suárez, CUJAE


2. On February 14th Professor Baaken presented as a track key note on "The Future Science-to-Business Impact of Cuban Universities" in the track "Vinculo Universidad-Empresa" of the "11th International Congress of Higher Education" in Havana.

The International Congress of Higher Education, organized by the Ministry Of Higher Education took place 12th February to 16th February 2018 at the Havana Convention Centre and the University of Havana. The conference was attended by some 3.000 delegates, mainly from Latin America, and covered areas like Innovative Universities for a sustainable development.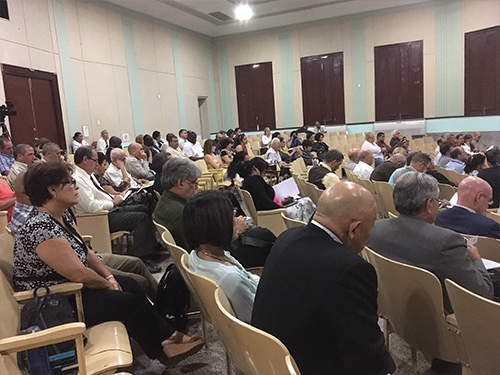 Track "Vinculo Universidad-Empresa"


3. A project meeting with project members from University of Havana was organized. The project of S2BMRC "Red para el fomento de la Internacionalización de la Educación Superior en América Latina [RIESAL]" is partnering with University of La Habana.


4. Also a major DAAD event was launched and attended. Dr. Ulrike Dorfmüller, DAAD representative at Havana, invited to a meeting of Cuban and German scientists and researchers to create exchange experiences and create new ideas and projects. Prof. Dr. Frank Riemenschneider, associated member of S2BMRC, facilitated a workshop on Infrastructural elements, like engineering and Science-to-Business and -Society.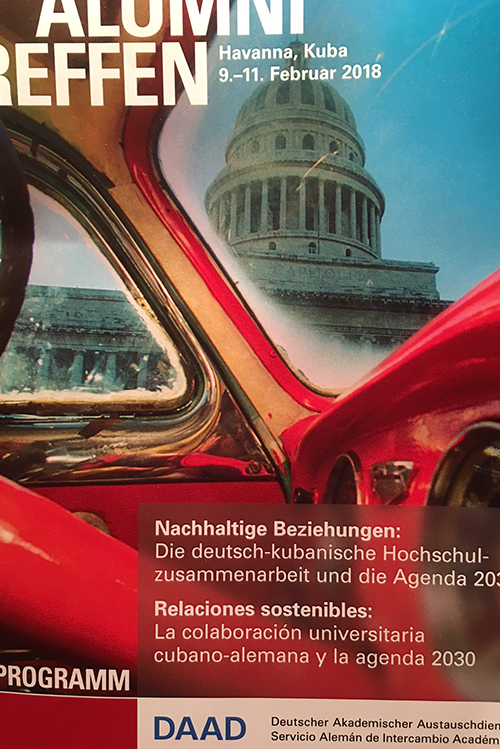 5. Finally the German ambassador in Cuba, Thomas Heisinger, launched a reception a reception on the occasion of the event to the German delegation of the DAAD meeting and Conference participants. The honor was on the S2B-Team to attend.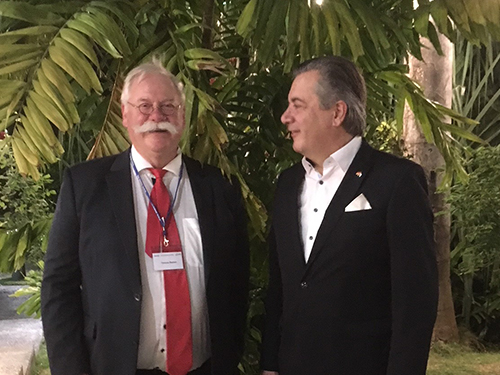 Prof. Baaken and the german ambassador in Cuba, Thomas Heisinger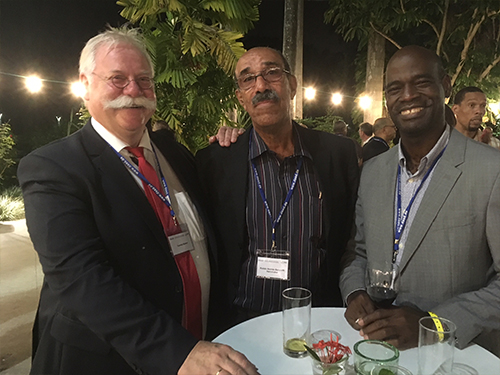 Prof. Thomas Baaken, Prof. Rubén Bancrofft, Dr. Jorge Pena Díaz

Links:

Universidad 2018 - 11no. Congreso Internacional de Educación Superior Universidad 2018

Esteemed Cuban delegation visits the S2BMRC to investigate about the tools and methods developed for University-Business Cooperation and Disruptive Change

Universidad Tecnológica de La Habana

Red de Internacionalización de la Educación Superior en América Latina (RIESAL)