Strategic Cooperation with Kurago Biotek from Mexico and its German Venture
March 06, 2018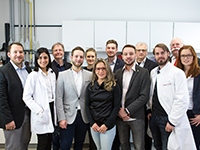 Münster/Guadalajara, 06.03.2018

Picture:The Team of Kurago Biotek Deutschland GmbH and its Advisory Board (Prof. Ritter (FoodLab), Prof. Titgemeyer (Dean), Prof. Baaken (S2BMRC)) in FoodLap FH Münster


The S2BMRC signed a contract of a Strategic Partnership with Kurago Biotek Germany.

Kurago Biotek is an internationally emerging biotech startup from Mexico, which has developed and patented innovative technologies in the field of functional foods. The young company specializes in the cultivation of live and active beneficial microorganisms that can be used for product refinement and food fortification. In an international cooperation project with universities, research institutes and companies, this research and development should be further promoted with the aim of improving the health and nutrition of people through functional foods.

Kurago Biotek, based in Guadalajara Mexico together with its German Joint Venture in Münster, are experts in culture live and active beneficial micro-organisms, together with nutrients. The developed biotech, patented by Kurago Biotek, stands out in carrying live and active probiotics, in not dairy food, powders, or pills. Mexican company to design, produce, distribute and sell functional products with high added value, to improve health and nutrition.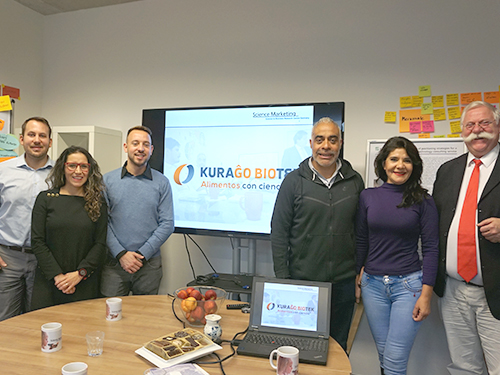 (f.l.) Samuel Lopez (KBT) , Sue Rossano Rivero (S2BMRC and KBT), Claudio Garcia (CEO KBT GER), Antonio Cruz (CEO KBT MEX), Guillermina Rivera Carillo (KBT), Prof. Thomas Baaken (S2BMRC) in S2BMRC

The partnership is embracing different activities:

• Kurago Biotek is a partner supporting the "Junior Professorship" of Sue Rossano. The S2BMRC and Kurago Biotek raised an application for a three years joint partner Professorship. The Application was granted and Sue Rossano's Junior Professorship at S2BMRC will start in September 2018 and

• in this context, Sue Rossano serves as Head of Marketing for Kurago Biotek Deutschland GmbH;

• in Sommer Semester 2018 and others the S2BMRC will conduct a market research study and strategy project for Kurago Biotek Deutschland GmbH;

• some Bachelor and Master Theses supervised by Prof. Baaken and Sue Rossano MA are dedicated to the products and markets of Kurago Biotek;

• Prof. Thomas Baaken was appointed to be a member of the "Advisory Board" of Kurago Biotek Germany. Together with Prof. Fritz Titgemeyer and Prof. Guido Ritter from the department of Nutrition the Advisory Board started its activity with a constitutional inaugural meeting in December.

Link:

Kurago Biotek