Prof. Dr. Kliewe and Rolf Laakmann at the Matchmaking workshop for the programme "Entrepreneurial Universities in Africa"
February 23, 2018
Nairobi


During the past 13th-- 16th of February, Prof. Dr. Kliewe together with Rolf Laakmann from the transfer agency of the Münster University of Applied Sciences participated in a Matchmaking event in Nairobi, Kenya, offered by the DAAD which aims to support Kenyan universities to become entrepreneurial universities.

Besides discussing strategies, tools and good practices on "Entrepreneurial Universities", the event aimed to match German and Kenyan universities that are interested in cooperating and jointly applying to the DAAD program "Entrepreneurial Universities in Africa".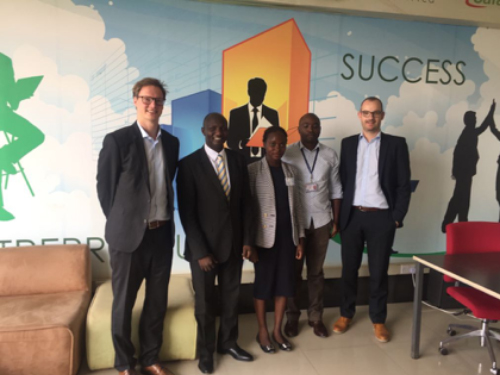 The welcome remarks were given by Dr. Helmut Blumbach from the DAAD Nairobi; Georg vom Kolke, the Federal Ministry for Economic Cooperation and Development (BMZ), Germany; and Prof. Chacha Nyaigotti-Chacha, from the Commission for University Education in Kenya.

The Keynotes on the matter "The shift towards entrepreneurial universities" were presented by Dr. Christian Schneijderberg, from the International Centre for Higher Education Research (INCHER) in Germany; Prof. Robert Gateru, PhD and Vice Chancellor, from Riara University and LIWA (Linking Industry with Academia) in Kenya; and Dr. Helmut Blumbach, from the DAAD Nairobi.

The Münster University of Applied Sciences will team up with the following institutions to apply for the funding:

- University of Nairobi
- Technical University of Kenya
- Strathmore University
- LIWA (Linking Industry With Academia)

Prof. Dr. Kliewe and Rolf Laakmann visited all four institutions after the matchmaking event to discuss the joint proposal and further collaboration opportunities.