Encouraging creativity! Opening of the S2BMRC Co.Creation.Lab
March 20, 2018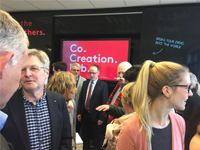 Münster

Creating a space and platform for creativity - that was the goal of the S2BMRC Team. The Design Thinking room is incorporating creative features to be flexibly and stimulate productive, inventive thoughts.

The Co.Creation.Lab was initiated, created and established. "We need such kind of workshop rooms," said Jens Andreas Meinen, Chancellor of MUAS at the grand opening. Some 40 guests came to see what the team of the Science-to-Business Marketing Research Center lead by Prof. Dr. Thomas Baaken and Tristan Konrad have come up with: a magnetic whiteboard fills a complete wall, a black board wall hides several shelves, wooden cubes can be used flexible - as a stool, bench or counter.

"During lecturing and idea creating often we are physically close, but didactically separated", said Prof. Dr. Thilo Harth from the "Center for Quality Development", who supported the project. "The Co.Creation.Lab makes presence more valuable!" Initiator Prof. Dr. Thorsten Kliewe: "Design thinking is an innovative method that combines several elements of creative thinking and design. And this new co-working space offers exactly the platform for it. We will realise many projects and workshops with partners, clients and also students here."

A website is launched which provides tools of Design Thinking and Problem solutions. Users can find the best fitting tools, read a description and some hints and tips for its application. Thus there is also a digital guidance if wanted.

The S2B Team wanted to create more freedom for creativity and work on the design of the rooms. The Co.Creation.Lab is open to lecturers, students, and companies from the region.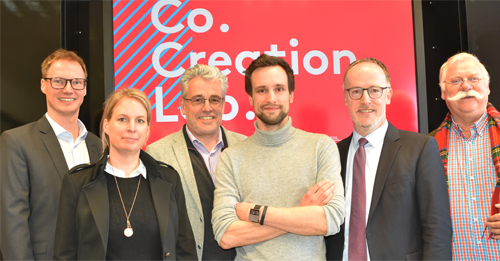 Initiators and supporters des Co.Creation.Lab (f.l.): Prof. Dr. Thorsten Kliewe, Tina Krys, Prof. Dr. Thilo Harth, Tristan Konrad, Jens Andreas Meinen und Prof. Dr. Thomas Baaken. (Photo: FH Münster/Pressestelle)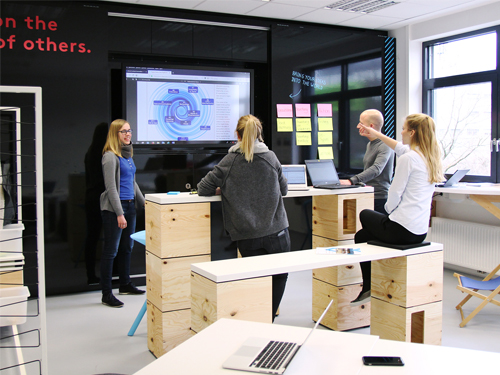 Mit dem Co.Creation.Lab ist ein Raum für Kreativität entstanden.