Prof. Gideon Maas from CU awarded with an Adjunct Position at S2BMRC
March 27, 2018
Coventry

Prof. Dr. Gideon Maas, Director International Centre for Transformational Entrepreneurship President Institute for Small Business and Entrepreneurship, Coventry University, was awarded an "Adjunct International Scientific Fellowship" at Münster University of Applied Sciences' Science-to-Business Marketing Research Centre. The Dean of Münster School of Business, Professor Dirk Kiso, issued the official certificate to Professor Maas.

The awarding ceremony took place during a large Think Tank Event on "Transformational Entrepreneurship" of Coventry University in the UK in presence of the Deputy Vice-Chancellor "Student Experience" Professor Ian Dunn.

The honorable title has been dedicated for his substantial contribution to the field of Transformational Entrepreneurship and to the extended collaboration in research projects, joint publications and exchange of ideas and his significant role of developing the Science-to-Business Marketing Research Centre since it was established in 2002

The entire team of S2BMRC and Münster School of Business is very much looking forward to the further cooperation.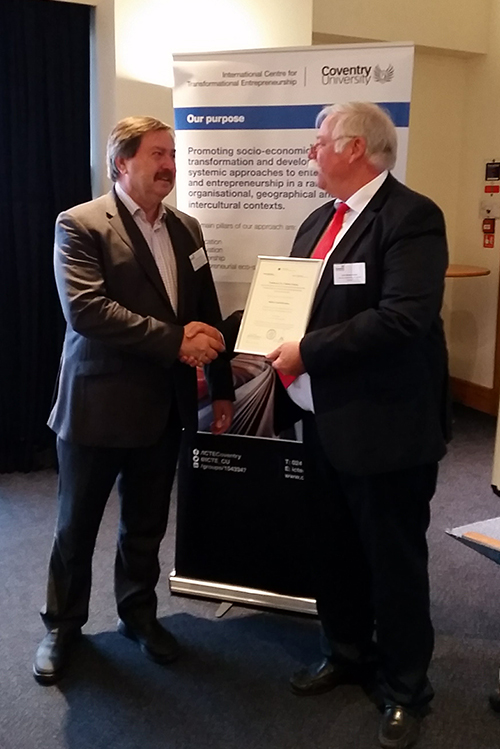 Prof. Dr. Maas and Prof. Dr. Baaken


Links:

Coventry University

Prof. Dr. Gideon Maas University Profile

"PROFESSOR GIDEON MAAS, DIRECTOR INTERNATIONAL CENTRE FOR TRANSFORMATIONAL ENTREPRENEURSHIP, IS APPOINTED PRESIDENT OF THE INSTITUTE FOR SMALL BUSINESS AND ENTREPRENEURSHIP"