Delivering an "Entrepreneurial and Innovative University" workshop in Colombia for the RIESAL project
March 29, 2018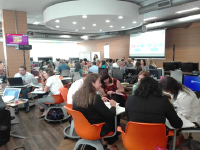 Barranquilla, 29.03.2018

A workshop on Entrepreneurial University was delivered the past March 14, 2018, in Barranquilla, Colombia, by the PhD candidate Claudia Umanzor and the academic research assistant Carolina Ossa.
The workshop took place at the Universidad del Norte, in Barranquilla, Colombia, in the frame of the XXI edition of the international event "Cátedra Europa", which since 1997 has gathered hundreds of speakers and thousands of attendees annually. The event has been consolidated as a space for reflection, debate and analysis of political, economic, educational, social and cultural issues related to the current global order and relations between European countries and the Caribbean region in Colombia.

Around 80 members of the higher education community from Argentina, Belgium, Bolivia, Brazil, Chile, Colombia, Cuba, Italy, Mexico, Paraguay, Spain and Uruguay participated in the workshop "Entrepreneurial and Innovative University". The workshop was based on the module with the same name, created for the Regional Network for the Promotion of the Internationalisation of Higher Education in Latin America as part of the online course "Improvement in the Management of the Internationalisation of Higher Education".





Foto: http://erasmusplusriesal.org/es


More Information about "Cátedra Europa" here

Cover foto taken by Carolina Ossa