S2B Centre will implement the pilot test from the training program in technology transfer from the 9th to the 17th of November 2013 in Buenos Aires, Argentina
September 30, 2013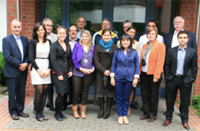 The international "project d-PoLiTaTe"; whose aim is to create and establish an innovative network of European and Latin American universities, is on its way to develop the second phase of the project denominated "pilot test".

The team in charge of the project d-PoLiTaTe from Science-to-Business Marketing Research Centre, along with its partners from Bolivia, Colombia, Peru, México, Argentina, Spain and Germany, will travel from the 9th to the 17th of November 2013 to Buenos Aires, Argentina to implement the "pilot test training in technology transfer".

The objective of the pilot test is to implement and test the content developed for the training program. During the last year, each partner from the consortium has developed the theoretical content of a specific thematic module. The program is structured into six modules that will be offered in both; on-site (face-to-face presence) and on-line (E-Learning platforms) modalities.

The main topics developed within the modules of the programs are:



Leadership
Technology Transfer Structures
Knowledge and Innovation Networks
Intellectual Property
Commercialisation
Soft Skills



The members of the consortium will be trained by internationally recognized experts in each one of the main topics from the training program. In this respect the Science-to-Business Marketing Research Centre, will present the following topics: "Science-to-business Marketing", "research commercialisation", "university-business cooperation", and "academic leadership and technology transfer in the new entrepreneurial university".

Finally, to ensure the continuity of the project, the Science-to-Business Marketing Research Centre in cooperation with its partner in México, Universidad Autonoma del Estado de Hidalgo (UAEH), will present the first proposal for the Sustainability Plan of the project d-PoLiTaTe.