S2BMRC educates Latin American University Managers on Entrepreneurial Universities through Online Course
March 28, 2018
Münster, March 2018

The course "Improvement in the Management of the Internationalisation of Higher Education" (PEGIES for its initials in Spanish) is an online four-module programme with a load of 108 teaching hours spread over 18 weeks targeted at members of the higher education community in Latin America and the Caribbean. The course was developed for the "Regional Network for the Promotion of the Internationalisation of Higher Education in Latin America Project" (RIESAL), a project co-financed by the European Commission, within the framework of the Erasmus + CBHE programme.

The modules that made up the first edition of PEGIES were:

- Internationalization Strategies - by Universitá Cattolica Del Sacro Cuore (Italy)
- University development cooperation - by Vrije Universiteit Brussels (Belgium)
- Recruitment and management of international projects - by Universidad de Alicante (Spain)
- Entrepreneurial and innovative university - by Münster University of Applied Sciences in partnership with the S2BMRC.

The module "Entrepreneurial and Innovative University" was developed by Prof. Dr. Baaken, Prof. Dr. Kliewe and Dr. Lina Landinez, and its implementation was primarily managed by Carolina Ossa, academic research assistant at the S2BMRC. The module was approved by 71 participants from Argentina, Bolivia, Brazil, Chile, Colombia, Cuba, Dominican Republic, Ecuador, El Salvador, Mexico, Paraguay, Peru, Uruguay and Venezuela.
The second edition of the course is expected to go online in the second semester 2018.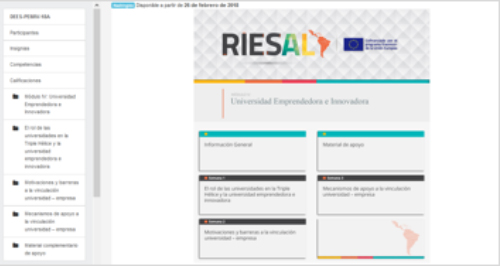 Platform for the online course


More Information about the online course here.