11th PhD Workshop together with VU Vrije Universiteit Amsterdam with distinguished guest speaker from Adelaide Uni
April 27, 2018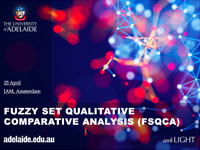 Amsterdam, 25.-27.04.2018


S2BMRC of Münster University of Applied Sciences (MUAS) and VU have successfully launched its 11th joint PhD Workshop. This time both Universities proudly announced a distinguished speaker, coming all the way down from Australia. Prof. Dr. Carolin Plewa, Professor in Marketing and Community Engagement at The University of Adelaide, Australia. Professor Plewa also serves as Deputy Director of the ECIC (Entrepreneurship, Innovation and Commercialisation Centre) and as a member of the Science Council of South Australia.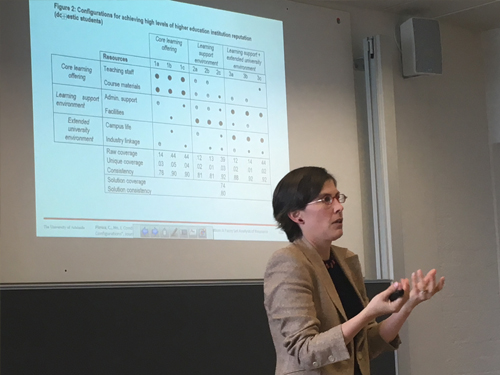 Professor Carolin Plewa.


The subject of Professor Plewa's speech was "The potential of fsQCA - Qualitative Comparative Analysis Using Fuzzy Sets." It was well received by all attendees, PhD candidates as well as faculty members.

Other input presentations have been delivered by Dr. Marlous Blankensteijn from VU on "Case Study Research" and Alexander Schmidt from MUAS on "Qualitative Data Analysis: Demonstration of MaxQDA". Faculty discussed the topic of "Qualitative Research" as a focus of the workshop.

This time 17 PhD candidates (10 from Amsterdam and 7 from Münster) attended the Workshop and presented their work to the faculty. The faculty provided substantial feedback to each of the PhD candidates.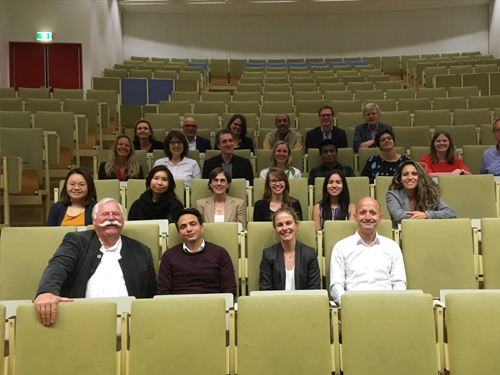 The PhD workshop candidates and faculty


As Faculty the following academics served the sessions:

1. Dr. Kevin Augustijn, VU Amsterdam
2. Prof. Dr. habil. Thomas Baaken, S2BMRC/MUAS & VU Amsterdam
3. Prof. Dr. Rubén Bancrofft, CUJAE University Havana, Cuba & S2BMRC/MUAS
4. Dr. Marlous Blankesteijn, VU Amsterdam
5. Prof. Dr. Bart Bossink, VU Amsterdam
6. Prof. Dr. Thorsten Kliewe, S2BMRC/MUAS
7. Prof. Dr. Carolin Plewa, The University of Adelaide, Australia & S2BMRC/MUAS
8. Sue Rossano, S2BMRC/MUAS
9. Prof. Dr. Peter van der Sijde, VU Amsterdam & S2BMRC/MUAS
10. Dr. Ingrid Wakkee, HvA Amsterdam

The next joined PhD workshop, in November 2018, will take place in Münster again and will be focused on reviewing the progress of the PhD participants, and applying a PhD Logbook to the process as well as connecting the literature based Research Gap to Theory and its Managerial Impact.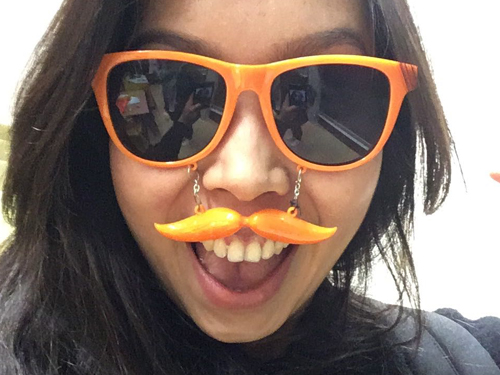 "Kings day" in Amsterdam