Minister for Culture and Sciences Affairs of North Rhine-Westphalia, Visited Münster University of Applied Sciences.
June 20, 2018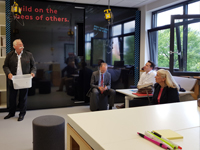 Münster

Minister Isabel Pfeiffer-Poensgen, Minister for Culture and Sciences Affairs of North Rhine-Westphalia, Visited Münster University of Applied Sciences to inform herself on the performance level and areas of the University. The Delegation of the Ministry consisted of representatives of the Department "Universities in Westphalia" including the head of the department MR Dr. Hans-Peter Zils, and policy officer RD'in Christa-Maria Theunißen. The visitors have been cared on by the entourage of the entire presidency of the University.

First Carsten Schröder, Managing Director of the TAFH Münster GmbH, Vice-President for Research Management and Knowledge Transfer at Münster University of Applied Sciences introduced the university's Entrepreneurship education and support structures.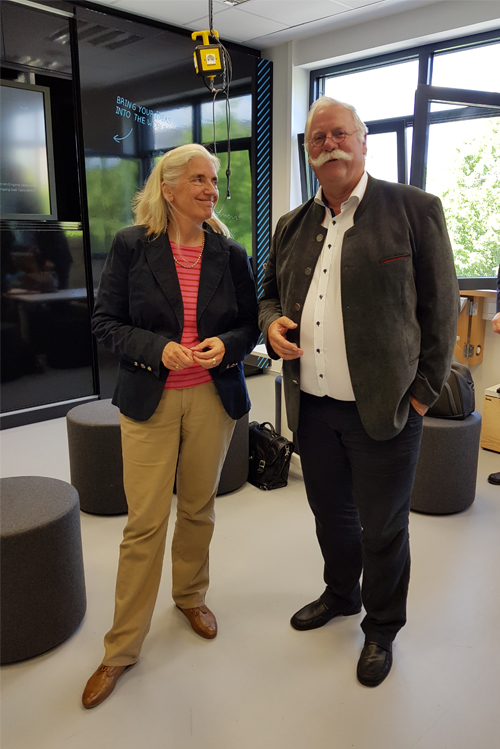 Minister Isabel Pfeiffer-Poensgen and Prof. Dr Thomas Baaken.

Subsequently Prof Thomas Baaken presented on the Science-to-Business Marketing Research Centre and its fields of activities in "Science-to-Business", "Science driven Innovation" and "Science-to Society". The presentation focused on three Areas:

1. The new study of the Centre which was launched some days before by the European Commission on "The state of University Business Cooperation (UBC) in Europe."

• "UBC" is an under-developed activity in comparison to university-business cooperation in the fields of education and research. Comparing to the study in 2010/11 where eight fields of cooperation have been seen, in the 2017/18 study 12 fields could be identified.
• The various stakeholders involved (i.e. Higher Education Management, Academics, Business) have different motivations to university-business cooperation.
• More and better understanding is needed to successfully collaborate. Universities need to make a professionalisation shift in university-business cooperation to strategically manage relationships.

2. In the new and recently launched Co.Creation.Lab of the S2BMRC new forms of learning and teaching settings using Design Thinking and creativity.
• The equipment of the Lab, like flexible furniture and writable walls.
• Material for Building prototypes, like professional Lego and dough and similar.
• Tool Kit of 60 Design Thinking and 40 Business model Creation Tools, coming from the cooperation of the S2BMRC and MediaLabAmsterdam, in physical and online form.

3. New learning and teaching formats like Dragons Den and Semester projects with companies.
• Student teams battling Water and Fire Dragons according to the TV broadcast.
• Students are presenting their innovative ideas to experienced delegates and experts from companies, so called "Dragons" from startups.
• Semester projects with some 12 Bachelor Students and 2 Master Students to serve SMEs in the region with new ideas, analysis, and creativity.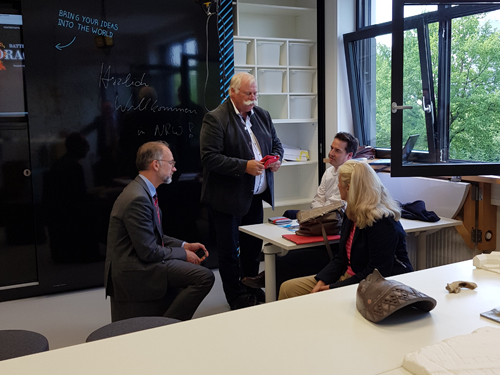 Prof. Dr. Thomas Baaken presents S2BMRC outcomes.

The presentations have been well received by the Minister and her delegates; a follow up contact was agreed on.

Links:

Ministerium für Kultur uns Wissenschaft des Landes NRW

Archiv: Findings from the Largest Study on University-Business Cooperation in Europe Launched in Brussels.

Archiv: Encouraging creativity! Opening of the S2BMRC Co.Creation.Lab.

Battling the Dragons