Joint Conference on Technologies and Science-to-Business in Indonesia - S2BMRC and MUAS partnering with ITP
July 26, 2018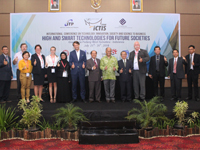 Padang, Indonesia, 24th-26th July 2018

With more than 300 participants from 12 countries of Asia, Europe and Africa, the conference in Padang offered a platform for scientists and practitioners to share ideas and knowledge.

To engage scientific communities, governments, and industries in promoting knowledge-based economy, Institut Teknologi Padang (ITP), Indonesia, and Science-to-Business Marketing Research Centre (S2BMRC) of Münster University of Applied Sciences (MUAS), Germany, proudly presented the 2nd International Conference on Technology & Innovation in Society and the 15th Science-to-Business Marketing Conference: ICTIS-S2B 2018.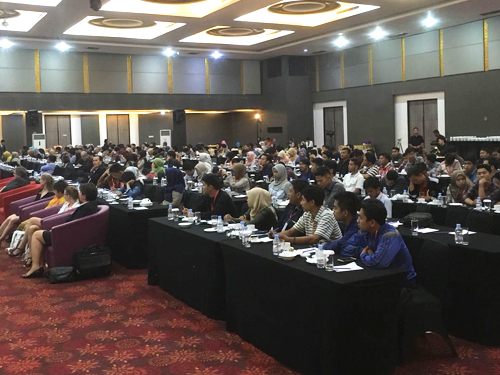 Impressions of the conference.


The objective of this joint conference was to reflect the processes of knowledge and technology valorization in less developed countries and what it means for universities, policy makers and the business world. By its name the ICTIS – S2B 2018 aims to discuss and evaluate the four pillars of knowledge valorization consisting of technology, innovation, society, and related transfer processes.

Over three days the conference gave access to a wide variety of presentations and workshops from academics and practitioners on technologies and Science-to-Business Marketing. The conference was providing a platform to interact, share knowledge, and establish new contacts with peers.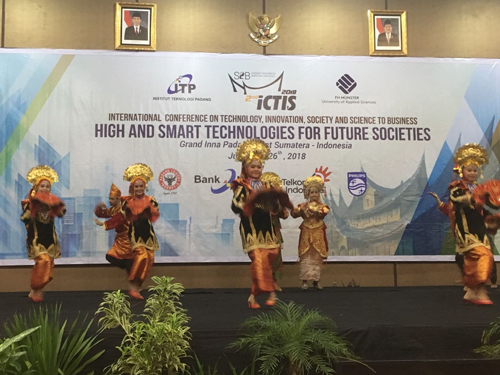 Impressions of the conference.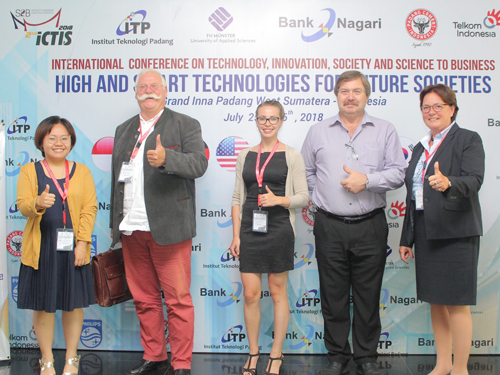 From the left: Maggie Chak, Prof. Baaken, Eva Sormani, Prof. Maas and Friederike von Hagen.

The S2BMRC & MUAS Team contributed substantially to the 2017 conference.

• Key Note Speaker: "Science-to-Business Marketing and its impact on Societal Wealth" by Prof. Dr. Thomas Baaken (S2BMRC)
• Key Note Speaker: "The state of UBC in Europe – Results and findings of a major Study in 33 Countries of Europe, conducted for the European Commission" by Arno Meerman (UIIN & S2BMRC)
• Key Note Speaker: "Transformational Entrepreneurship – A new powerful Concept to Serve Business and Society" by Prof. Gideon Maas (Coventry University and S2BMRC)

• Paper presentation: "Literature Research on Relationship Building in University-community Collaboration in Health Research and Innovation", presented by Choiwai Maggie Chak (S2BMRC).

• Paper presentation: "The Potential of Nudging for Societal Benefits from Research", presented by Eva Sormani (S2BMRC).

• Paper presentation: "Challenge centered teaching and learning concept by using real world projects for SMEs", presented by Thomas Baaken (S2BMRC), Friederike von Hagen (Faculty of Food-Nutrition-Facilities), Eva van de Maat (MIMS)

• Paper presentation: "KRAKE KRAchtige KErnen (Strong Villages)
– an Empirical based Action Research Project of Fostering Cooperation between Firms and Volunteers für the Benefit of small Villages in Germany and the Netherlands" presented by Friederike von Hagen and Prof. Dr. Frank Riemenschneider (Faculty of Food-Nutrition-Facilities & S2BMRC).

S2BMRC is looking forward to further co-developing the topics of UBC, Science driven Innovation, Entrepreneurial Universities, Engaged Universities, Science Marketing, and others with ITP.