Successful UniTransfer Executive Training Course took place in Costa Rica
October 30, 2013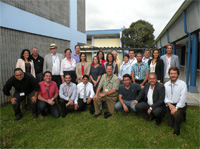 From the 29th of September to the 11th of October 2013, the Module B of the UniTransfer Executive Training Course took place in Costa Rica in different venues of the four public national universities.

UniTransfer Executive Training Course is a DIES programme funded by the DAAD (German Academic Exchange Service) and the HRK (German Rectors' Conference). The goal of UniTransfer is to create a course for leaders in knowledge and technology transfer (KTT) by training managers and decision makers in different areas related to cooperation and partnering with external stakeholders from HEIs in Mexico and Central America to improve their necessary skills to develop effective transfer, cooperation and partnering-strategies.

The participants of the course are 20 professionals from Latin American universities whose work is related to technology transfer: 10 are from Costa Rica, 9 from Mexico and 1 from Nicaragua.

During these two weeks in Costa Rica, the 20 participants learnt from experts in various fields of technology transfer, entrepreneurship, science-to-business, higher education management and innovation through seminars, workshops, successful case studies and visits to companies and research centers. Furthermore, each of the participants presented the development of their P.A.P. (Personal Application Project), which consists of an essential instrument to help participants structure their projects about KTT, to put into practice their ideas and to improve their skills. The P.A.P. were supervised and evaluated by both experts and by the other participants of the course.
The three parts (or Modules) of UniTransfer are organized by the project leader and the two main partners of the projects:



Project leader Science-to-Business Marketing Research Centre organized the Module A (Science-to-Business Marketing), which took place in April-May 2013 at the Münster University of Applied Sciences (Germany).


The Module B (University Structures and Entrepreneurship) was organized by the Costa Rican partners from Instituto Tecnológico de Costa Rica.


Module C (Intellectual Property) is being organized by Mexican partners from the Universidad Autónoma del Estado de Hidalgo (Mexico) and will take place the 16th – 28th March 2014.



A final conference to present the results and impacts of the project will take place in Costa Rica in September 2014.