Successful implementation of the pilot test from the training program in technology transfer in Buenos Aires, Argentina
December 04, 2013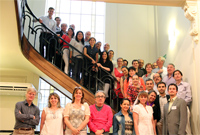 Münster, Germany: December 04th, 2013.- The international "project d-PoLiTaTe"; whose aim is to create and establish an innovative network of European and Latin American universities, had successfully implemented its "pilot test" in Buenos Aires.

The Science-to-Business Marketing Research Centre, along with its partners from Bolivia, Colombia, Peru, México, Argentina, Spain and Germany, gathered from the 9th to the 17th of November 2013 in Buenos Aires, Argentina, to implement the "pilot test training in technology transfer".

The main topics developed within the modules of the programs were:

Leadership
Organizational Structures of Technology Transfer
Knowledge and Innovation Networks
Intellectual Property
Commercialisation and Science Marketing
Soft Skills


The Science-to-Business Marketing Research Centre is conscious of the responsibility to share and transfer knowledge, not just to the industry but also to the partners that are developing capabilities in this matter. For this reason Prof. Dr. Thomas Baaken and his team of researchers presented and trained the participants in the following topics: "Science-to-business Marketing", "research commercialisation", "university-business cooperation", and "academic leadership and technology transfer in the new entrepreneurial university".

The project has successfully concluded its second year of implementation. The goals for 2014 will be to implement the on-line course and to provide feedback of the contents, to invite new partners to the network, and to develop a project of technology transfer along with the new partners invited of the consortium d-Politate. The new projects developed will be presented in the closing of the project, which will take place on October 2014 in México, at Universidad Autónoma del Estado de Hidalgo.