The University-Industry Interaction Conference in Cooperation with the Science-to-Business Marketing Research Centre in Barcelona, Spain
May 02, 2014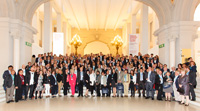 From 23th till 25th of April 2014, the University-Industry Innovation Network (UIIN), in cooperation with the Catalan Association of Public Universities (ACUP) and the Science-to-Business Marketing Research Centre (S2BMRC) organised the University-Industry Interaction Conference in Barcelona, Spain. 342 participants from 52 countries engaged in rich dialogues workshops, presentations, networking and idea sharing, with the purpose of learning how to exploit the full value of science-business relationships.

With keynote speakers as Professor Carl Schramm (Economist, entrepreneur, and former President and CEO of the Ewing Marion Kauffman Foundation), Dr. Matthias Kaiserswerth (Director and Vice President, IBM Research – Zurich) and Professor Keld Laursen (Professor for Innovation at Copenhagen Business School and Vice-president of the European Academy of Management (EURAM)), the conference brought some of the key "Challenges and Solutions for Fostering Entrepreneurial Universities and Collaborative Innovation".

Besides its role of partnering the conference the S2B Marketing Centre participated actively in the conference by presenting to the international community original research developed on the topic of University-Business Cooperation. For instance Victoria Galán Muros and Todd Davey presented "A model to manage and regulate university-business cooperation" based on the largest study in Europe in matters of University-Business cooperation. On the topic of Entrepreneurial Universities, Todd Davey presented his work on "Creating an entrepreneurship ecosystem involving HEIs". Prof. Dr. Thomas Baaken, Manager of the Research Centre along with Friederike von Hagen and Kerstin Linnemann presented their research on "Creative Coupling - a Key Opportunity for Success in Transfer" which proposes an alternative source.

The University Industry Innovation Network (UIIN) is an initiative and spin off from the S2B Marketing Centre.