Nisha Korff received PhD
June 25, 2014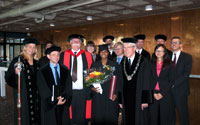 Team Member and PhD Candidate Nisha Korff successfully defended her PhD thesis on "University-Industry Linkages: Benefitting from Experience" at VU Vrije Universiteit Amsterdam. Five reading committee members and opponents from Sweden, Denmark, Germany and The Netherland had been most satisfied with the defending answers of the candidate.

Dr. Nisha Korff was awarded the academic title by the Department of Social Sciences at VU; supervisors had been Prof. Dr. Peter Groenewegen VU, Professor Dr. Thomas Baaken S2BMRC and Dr. Peter v.d. Sijde VU. Thomas Baaken delivered the laudatio.

Congratulations Dr. Korff for your achievements.