Successful project delivery for the European Coil Coating Association
June 17, 2014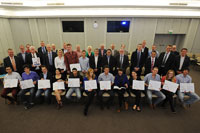 S2B Marketing Research Centre of Münster University of Applied Sciences conducted a market diagnostic project for ECCA (European Coil Coating Association). Members of ECCA consist of reknowned companies accros Europe: BASF Coatings, König und Flügger, ThyssenKrupp Stahl, Salzgitter Flachstahl, voestalpine Stahl, Hühoco Metallbearbeitung, Novelis Aluminium, Metallpaint und Evonik. et al..

The project was led by Professor Thomas Baaken and managed by Thorsten Kliewe and Denise Becker on behalf of the Department of Business Administration.

The emphasis of the project was on determining the market potential and acceptance of coil coated metal roofs in the German, Austrian and Swiss housing sector with the deduction of marketing recommendation being the second main objective of the project. A key characteristic of the project was the analysis of 5 different stakeholder groups (roofers / plumbers, wholesalers / retailers, architects, construction companies, as well as (potential) house owners).

Overall, the project team achieved to collect 950 survey responses, allowing a detailed analysis of the different stakeholder groups in the housing market.

It started in March 2014; the final presentation was held on June 17th 2014 in front 24 delegates of the association and representatives of ECCA's member companies. The results are of high value to ECCA and its members and will be considered in their future strategic decisions.