UniTransfer Executive Training Course Final Meeting
October 10, 2014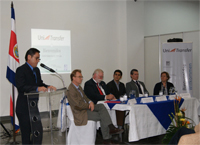 One month after the Final Conference UniTransfer, the final meeting for the evaluation of the UniTransfer – Executive Training Course took place the 10th of October, 2014 at Pachuca, México; event that was organised by Münster University of Applied Sciences (MUAS), as general coordinator of the project, with the support of Universidad Autonoma del Estado de Hidalgo (UAEH).

To this final meeting, assisted the three main leaders of the project - Prof. Dr. Thomas Baaken (Director of UniTransfer, Germany) Dra. Lydia Rasfeld (Leader of UniTransfer, México) as well as Dr. Milton Villarreal (Leader of UniTransfer, Costa Rica), along with the general coordinator M.A. Sue Rossano from the Science-to-Business Research centre and the coordinators from each region.

The leading team from UniTransfer, discussed the effectiveness, evaluation and further direction of this initiative that has trained more than 20 directors and leaders from Latin American in technology transfer position within Higher Education Institutions (HEI). Among the topics discussed in the meeting were: evaluation and effectiveness of the project; evaluation of the final conference celebrated last month of September in San José, Costa Rica; and future of the project and further cooperation.

From his side Dr. Villarreal, expressed its total satisfaction with the results achieved – "UniTransfer has notably improved the capacities and knowledge of the participants, this results are materialized in the projects developed throughout the course". On the side of the participants, the overall results of the surveys showed a total satisfaction with the course format, methodologies; and more important; with the human relational aspect achieved throughout UniTransfer. Within the qualitative feedback provided by the participants to evaluate the course, one of the participants expressed - "…UniTransfer has provided me with the confidence to entrepreneur and it has given me the vision to look outside my own institution and to create projects that can further impact the society".

Finally; Prof. Baaken addressed the sustainability of the project and the future of UniTransfer; stating that – "...the next generation of challenges in Higher Education Management will be to improve change management, reviews and evaluation by Key-Performance-Indicators". To this point he invited the Latin American leaders in HEI to focus on impact factors; such as creating value and benefits for their stakeholders and to create jobs in the knowledge society.