Successful culmination of the international project ALFA III d-PoLiTaTE
October 01, 2014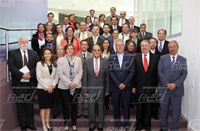 Pachuca, Mexico - Following a successful three-year cooperation among European and Latin-American universities with more than 40 experts from Argentina, Bolivia, Colombia, Costa Rica, Perú, México, Barcelona and Germany; the final meeting of the international project ALFA III d-PoLiTaTE, funded by the European Commission, took place from the 1st to the 9th of October, at Universidad Autónoma del Estado de Hidalgo (UAEH) in Pachuca, México.

In the opening ceremony the Rector from UAEH, Humberto Veras Godoy expressed that, "this project represents a unique opportunity to belong to an international academic network formed by experts in knowledge technology transfer guided by its experienced counterparts in Europe".

This final meeting was the opportunity to discuss the sustainability of the network and the products realized out of the project d-PoLiTaTE, such as the "d-PoLiTaTE Online Course" and the "Learning Network". The Münster University of Applied Sciences (MUAS) along with the UAEH were responsible for this work package and the mission was to consolidate d-PoLiTaTE as a formal network for Latin America around the topic of "Knowledge and Technology Transfer".