S2B publishes book on "Managing Disruption and Destabilisation"
December 08, 2014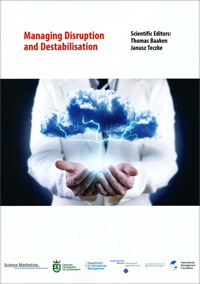 Today's century is a period of rapid changes in technologies and communication systems, accompanied by no less rapid political, economic and social changes. Globalisation processes, hegemony of multinational corporates and industrialised countries are supposed to be a guarantor of global peace. But a new age appeared in the contemporary world, which can be described as an age of disruptive changes and destabilization.

Thomas Baaken and Janusz Teczke, two scientist working on Change Management from different angels and perspectives from the two Universities Münster University of Applied Sciences (TB) and Cracow University if Economics (JT) edited a new book on "Managing Disruption and Destabilisation" 46 authors published on the topic in 28 papers (ISBN Poland 978-83-937642-3-5 ISBN Germany 978-3-938137-49-9).

From the Science-to-Business Marketing Research Centre Thomas Baaken, Todd Davey, Victoria Galan Muros, Christian Junker, Arno Meerman, Neele Petzold and Friederike von Hagen contributed to the book:

Baaken, Thomas; Teczke, Janusz (2014): Managing Disruptive Change by Partnering, pp. 129-142,
Baaken, Thomas; Davey, Todd; Galan Muros, Victoria; Meerman, Arno; von Hagen, Friederike (2014): A Comparison of the State of University Business Cooperation in Germany and Poland, pp. 261-280, and
Petzold, Neele; Junker, Christian; Riemenschneider, Frank (2014): Hybrid Value Creation as a strategic response to Disruptive Change, pp. 235-244.