International Open Forum at Münster University of Applied Sciences
January 08, 2013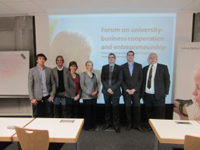 Science Marketing Centre invites for an international intercommunion

At the start of the year 2013, the Science-to-Business Marketing Research Centre organised and hosted an open forum on the topics of "Entre-preneurship" and "Developments in University-Business Cooperation". Vice-President of Partner-ships and Knowledge Transfer Carsten Schröder opened the forum as part of the 'Year of Internationalisation' at the Münster University of Applied Science. The Science-to-Business Marketing Re-search Centre invited several international experts on the topic of "Entrepreneurship" and "University-Business Cooperation" as guest speakers and participants:


Rebecca Allinson (Technolopis (UK), one of the leading consultants for the European Commission)


Dr. Clive Winters (Coventry University Enterprises Ltd, UK),


Dr. Carolin Plewa (The University of Adelaide (Australien), book author "Key Drivers of University-Industry Relationships"),


Todd Davey (Science-to-Business Marketing Centre and author of the study 'The State of European University-Business Cooperation').





The moderator of the session, Professor Thomas Baaken of the Münster University of Applied Sciences, stated "We are very pleased to have these experts present today and to offer the participants of the forum the opportunity to gain new insights in cooperation in R&D, commercialisation of R&D (IP), curriculum development and lifelong learning".

The event resulted in an action plan for future pro-jects and the development of the cooperation on an European level.