Hybrid Value Creation for SMEs
April 20, 2015
"Push – Hybrid Value Creation for Future Business" is a new project of S2B Marketing, which is carried out under the project management of "Münsterland e.V." and in cooperation with Westfälische Wilhelms-Universität (WWU) in Small and Medium Sized Enterprises" of the region.

Innovative solutions of combining products and services offer opportunities of new business models.
Intergrated Product-service Combination.

Two Workshops have taken place in the wider region: 1. in Stadtschloss Coesfeld 28.01.2015 (attended by 36 companies) and 2. in the Department of Business Administration of Münster University of Applied Sciences 20.04.2015 (attended by 40 companies). Next steps will be a one-to-one consulting activity of project staff with companies to develop ideas, concepts and business models on company's level.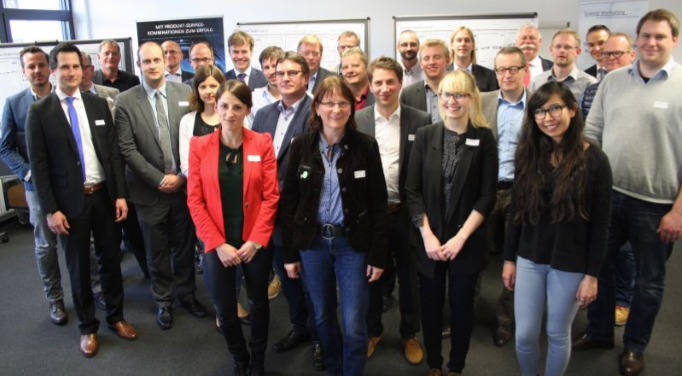 Dr. Christian Junker (2nd f.l.), David Serbin (8th f.r.), Prof. Dr. Thomas Baaken (6th f.r.) and Balzhan (5th f.r.) – all Science-to-Business Marketing Research Centre introduced around 40 participants from SMEs to Hybrid Value Creation.