Kerstin Kurzhals received PhD
May 26, 2015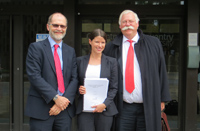 "With excellence; no changes" was the result of the defense: Kerstin Kurzhals form S2B Marketing team defended successfully her PhD dissertation on Monday, 26th May 2015 at University of Coventry in England. The subject of her work is on "Resource Recombination in Firms from a Dynamic Capability Perspective".

Examiner Prof. Dr. David Morris, Professor for "Business Development" at the University of Coventry und prof. dr. Peter van der Sijde, Professor on "Adaption of new technology; bringing technology to the market" at the Vrije Universiteit in Amsterdam, were highly impressed. "Excellent work! Furthermore there are a number of finding in the dissertation, which are worthwhile to be published separately in International Journals. In the dissertation those findings were just used for the all-embracing objective." said Professor Morris. He and Professor van der Sijde congratulated Dr Kurzhals.

The two promotors are more than proud of this assessment: "We really didn't expect such an honorary result, it is very rare." said Professor Baaken of the Science-to-Business Marketing Centre of Münster University of Applied Sciences. However, the thesis brings together knowledge from two different theories in a very innovative and comprehensive way. Congratulations to Dr Kerstin Kurzhals.

Picture at the top: Dr Kerstin Kurzhals in between her two promotors Prof Dr Thomas Baaken (r) S2B Marketing Münster and Dr Gerry Urwin University Coventry.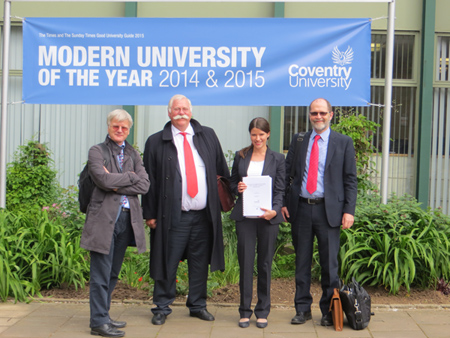 Prof Dr Peter v. d. Sijde (l) of VU Amsterdam served as External Examiner in Coventry.