Training of Experts in Water Management completed
October 27, 2015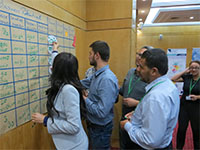 Science Marketing trains University and Business delegates from Tunisia, Jordan, Egypt and Palestine in Tunis

Tunis Susah (26./27. October 2015)

A 2 days seminar on Business Development and Science Marketing was held by Prof. Dr. Thomas Baaken and Friederike von Hagen of the Science-to-Business Marketing Centre. The delegates from companies, government and Universities are partners in water treatment projects in the Mediterranean region.
Content was e.g.: From Laboratory Research to Create an Innovative Enterprise, Method and Advice to describe and estimate an Opportunity of Start-up Creation, Create an Innovative Company, Innovative Concept, Science-to-Business Marketing. Several approaches and models have been presented and were used in exercises: E.g. the "Business Model Creation Canvas" by Osterwalder and "Business Potential Canvas" of the S2B Research Centre.
The feedback of the participants was exceptional. "I take home a lot what I can directly use in my daily business – operationally and strategically." said Salah Jalloli from CERTE, the Centre de Recherches et des Technologies des Eaux, Tunisia.
The seminar itself was initiated and contracted by Alberto Soraci from InnovaBic, the business innovation centre of Sicily Italy, who is partner in the FP7 project "FP4BATIW PROJECT - Fostering partnerships for the implementation of best available technologies & management in the Mediterranean".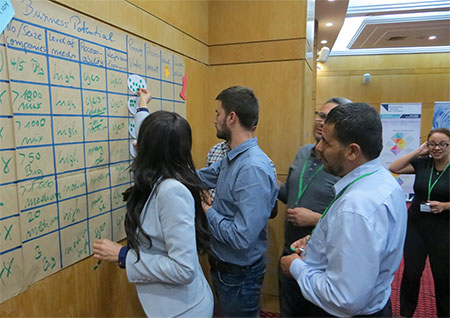 Participants working on the "Business Potential Canvas" of the S2B Centre.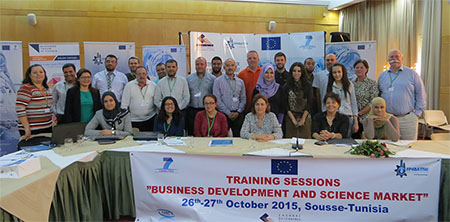 Prof. Dr. Thomas Baaken, Münster University of Applied Sciences & Friederike von Hagen (both right) trained 40 delegates in doing business.