México selects Münster University of Applied Sciences as a point of destination for training in knowledge and technology transfer
September 29, 2015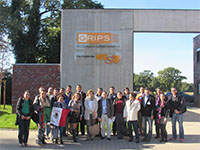 Münster University of Applied Sciences (MUAS) and its Science-to-Business Marketing Research Centre (S2BMRC) has coordinated successful research projects aiming at developing professional development programmes to support organisations around the globe in developing the required competencies for knowledge and technology transfer

One of the successful programmes developed was the Executive Training Course: UniTransfer, funded by the German Academic Exchange Service (DAAD) and the German Rectors' Conference (HRK). After the successful development and implementation of this project and training course, the Mexican government, through its National Council of Science and Technology(CONACYT) has assigned some funds to replicate the same approach aiming at improving the necessary skills from leaders in knowledge and technology transfer (KTT) positions.

As part of their training, last month, 20 leaders in KTT positions from México visited MUAS in order to receive training on alternative approaches for knowledge and technology transfer.
During their training period in Germany, Sue Rossano from S2BMRC guided the Mexican delegation to different knowledge transfer units from MUAS that are recognized as best practices promoting entrepreneurship and innovation for the region. The S2BMRC directed the training day including visits to GRIPS – the entrepreneurship and innovation park at Steinfurt, and the Technologiehof Münster.

The Science-to-Business Marketing Research Centre has a unique partnership approach to knowledge and technology transfer where cultivating trustful and long-lasting relationships with the industry is key for a successful and sustainable transfer: most recent publication: "Change to Success: Case Studies of Latin American Universities on Solutions for Promoting Innovation in Knowledge and Technology Transfer"


Photo:
The Mexican delegation at a training day in GRIPS, Steinfurt.