Honorary mentioning of new PhDs during MSB Graduation Ceremony
November 13, 2015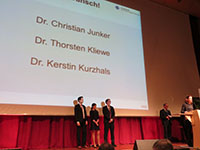 The S2BMRC proudly announces that three of its members, Dr. Christian Junker, Dr. Thorsten Kliewe and Dr. Kerstin Kurzhals completed their PhDs in the past year.

They were presented and honourably mentioned to the university's public during the graduation ceremony of Münster School of Business, Münster University of Applied Sciences.

The S2BMRC would like to express gratitude to Dr. Kliewe, Dr. Junker and Dr. Kurzhals for their commitment and also congratulate all other MSB Graduates.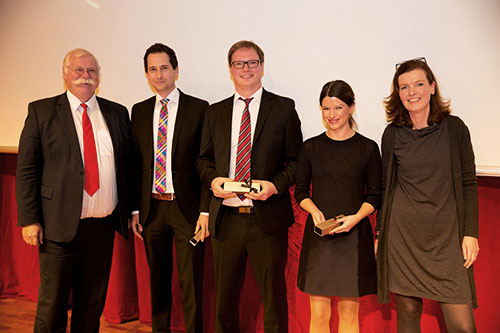 From left to right: Prof. Dr. habil. Thomas Baaken, Dr. Christian Junker, Dr. Thorsten Kliewe, Dr. Kerstin Kurzhals and Prof. Dr. Isabel von Keitz, Director of PhD programme of MUAS - Foto: Michael Richter