Professor Jose Manuel Saiz from Nebrija University, Madrid visits the S2BMRC to build closer links for future activities
November 25, 2015
Prof. Dr. Thomas Baaken and Sue Rossano welcomed Prof. Dr. José Manuel Saiz from Nebrija University in Madrid, Spain in the S2BMRC Office. At Nebrija University, Professor Saiz is responsible for the PHD Programme, hence one of the reasons to visit the S2BMRC was to get informed about how the PHD Programme at S2BMRC and the Münster University of Applied Science is organised.

Another topic discussed was the S2BMRCs expertise and approach on entrepreneurship. With Todd Davey, who recently published a book on Entrepreneurship at Universities (Exploring the factors influencing the development of entrepreneurship at universities), Mihai Melonari and Sue Rossano, the S2BMRC's entrepreneurship experts with different takes, approaches and projects in entrepreneurship, the discussion was focussed.

Moreover José Manuel Saiz is broadly experienced in Latin America. He lived, worked and lectured in all countries of Central and South America. From 1.1.2016 he is going to work at the University of Guadalajara in Mexico for the full year. That met the S2BMRC's expertise on Latin America for further joined activities and projects.

Professor Saiz and the S2BMRC agreed on maintaining a professional relationship on a PhD programs, Entrepreneurship and Latin American projects.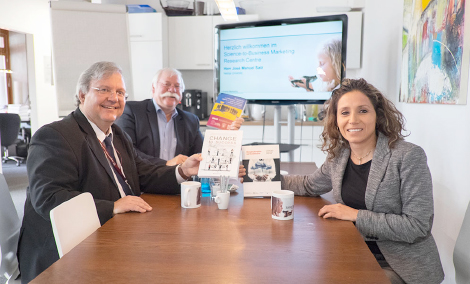 From left to right: Prof. José Manuel Saiz, Prof. Thomas Baaken, Sue Rossano MA