Dr. Kurzhals and Dr. Kliewe received PhD Award at Coventry University's annual graduation celebration
November 20, 2015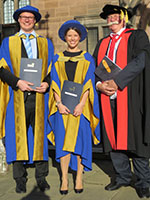 Dr. Kerstin Kurzhals and Dr. Thorsten Kliewe of the S2BMRC received an honorary mentioning at Coventry University Award Celebration.

Three PhDs in total have been awarded. The traditional blue shining PhD gowns of Coventry University singled the three new PhDs out of around 500 Bachelor and Master graduates in their black academic robes. Congratulations to Kerstin and Thorsten.

The PhDs were supervised in a split mode; Professor Thomas Baaken from S2BMRC in Münster and Dr. Gerry Urwin from Coventry were the two supervisors. S2BMRC and Coventry University have a history in cooperation and do collaborate not only in PhD supervisions, but also in joint projects in Framework 7, Studies (e.g. www.ub-cooperation.eu), Knowledge Alliance projects and Horizon2020.

Coventry Uni is the distinguished "Most Innovative University of UK" in 2014 and won the "University of the Year" award in 2015 from Times Higher Education.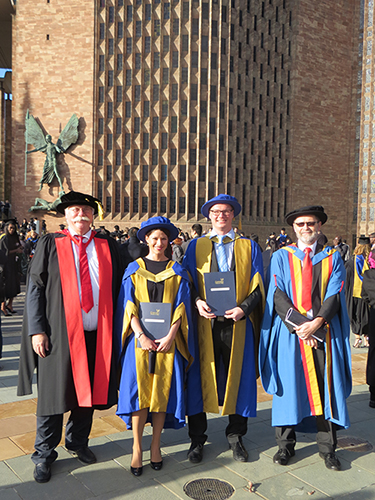 From left to right: Prof. Dr. Thomas Baaken, Dr. Kerstin Kurzhals, Dr. Thorsten Kliewe, Dr. Gerry Urwin