Dr. Kliewe delivered three presentations in Brazil and fosters collaboration with CTI and NII
November 04, 2015
Invited by the Ministry of Science, Technology and Innovation, Dr. Thorsten Kliewe delivered a keynote speech at the 7th International Conference on Management of computational and collective IntElligence in Digital EcoSystems (MEDES'15) conference in Caraguatatuba/Sao Paulo, Brazil.

In addition, Dr. Kliewe delivered a talk to employees of the Centro de Tecnologia da Informação (CTI) Renato Archer as well as a keynote presentation at the 1st International Workshop on Collective Intelligence organised by CTI.

During the trip, various collaboration opportunities between the Science-to-Business Marketing Research Centre, CTI and NII were discussed, and will be followed up upon in the near future.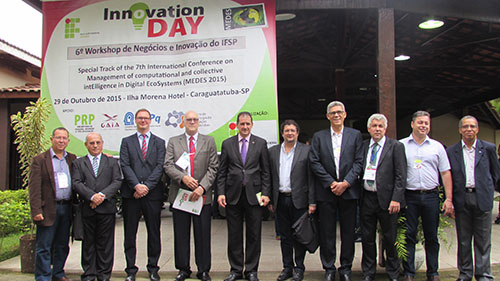 Dr. Thorsten Kliewe (3rd from left) with speakers of the conference.