Successful project kick-off for the "University-business cooperation in Europe: drivers, challenges, and opportunities" Project in Brussels, Belgium
February 04, 2016
The Science-to-Business Marketing Research Centre was awarded the tender for the study on University-business cooperation in Europe: drivers, challenges, and opportunities (EAC/10/2015) by the DG Education & Culture of the European Commission. During the next 22 months, the project consortium will undertake the yet to be largest study undertaken towards cooperation between Higher Education Institutions (HEIs) and business in Europe.

During the kick off meeting at the European Commission in Brussels on January 4th 2016 Dr. Todd Davey, in his role as Project Director stated: "We are proud to have been awarded the project; our consortium consists out of some of the most knowledgeable organisations in the field of university-business collaboration. We are looking forward to exceeding the previous study's results." The Project Manager, Arno Meerman added: "We will be launching two large-scale quantitative surveys addressing both universities and business. This, in addition to the 50 good practice case studies, will provide insights into the European state of UBC we've never had access to before".

"The project is a follow-up project from an earlier tender which was executed by the Science-to-Business Marketing Research Centre in 2010-2011. This study was the largest study ever undertaken on the topic of UBC in Europe. In contrast to the previous study, the current tender will also take the business perspective into account and will have a larger focus on indicators and the UBC ecosystem." informs the Director of S2BMRC, Professor Thomas Baaken. For information on the previous study, please visit: www.ub-cooperation.eu.

The project consortium trusts that it will create a leading benchmark for UBC in Europe, foster the acceptance and understanding of UBC in Europe as well as driving forward a smarter and more productive European innovation and employment market. In short, we believe there is a potential to make a shift in European thinking on this topic and provide the European Commission with very valuable information for the design of evidence-based UBC policies.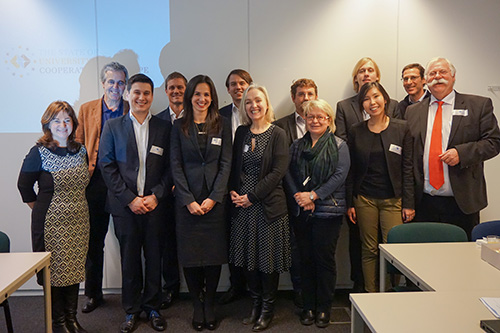 From left to right: Oana Ciurea (European Commission, DG Education and Culture), Peter Baur (European Commission, DG Education and Culture), Mihai Melonari (S2BMRC), Dr. Todd Davey (S2BMRC), Victoria Galan-Muros (Technopolis), Arno Meerman (S2BMRC), Rebecca Allinson (Technopolis), Dr. Samo Pavlin (University of Ljubljana), Renata Russell (European Commission, Education and Culture Executive Agency), David Serbin (S2BMRC), Balzhan Orazbayeva (S2BMRC), Dr. Pablo D'Este (INGENIO), Prof. Dr. Thomas Baaken (S2BMRC)

More information on the current study will soon be published on www.ub-cooperation.eu.